Kimberly Walsh Admits She's Worried About Sarah Harding In The Celebrity Big Brother House
8 August 2017, 12:56 | Updated: 8 August 2017, 12:58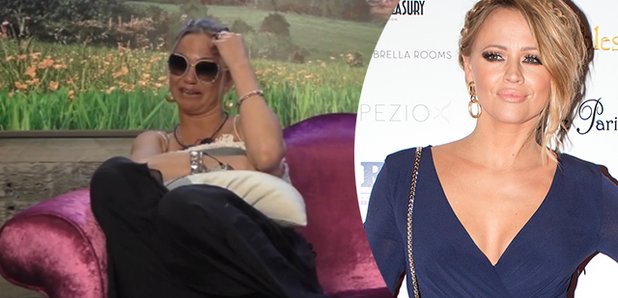 Kimberly Walsh has opened up about why she's worried about Sarah Hardings meltdowns on Celebrity Big Brother.
Kimberly Walsh has expressed concern for Girls Aloud band mate Sarah Harding, who has been seen having multiple emotional breakdowns inside the Celebrity Big Brother house.
The mother-of-two took to her column in HELLO! Magazine to praise her longtime pal as "brave" for appearing on the reality show, and admitted Sarah can get "easily overwhelmed" in certain situations.
Kimberly voiced her concern for Sarah, who has openly spoken about her battle with depression and booze, before praising her stint in the house so far as "great".
She wrote: "I've managed to watch a couple of episodes and it's actually really bizarre seeing someone you know so well in there.
"I think she's really brave to put herself out there like that as it's a lot of pressure and such an intense environment to be in."
Sarah, who previously battled an addiction to alcohol, has had a turbulent few days in the Celebrity Big Brother House so far and was seen in tears after a boozy night with fellow housemates.
Addressing Sarah's emotional episodes, Kimberly also expressed her worries for the singer's welfare in the house.
She continued: 'Sarah can sometimes be easily overwhelmed so I really hope she's OK in there and enjoys the experience. She's been great on the bits I've seen so far.'
Kimberley's comments after Sarah expressed she was feeling upset following a row with housemate Jemma Lucy on Monday night.
Speaking in the diary room, Sarah cried: "I don't know who to trust anymore. I just don't feel like I belong here anymore."
Oh come on Sarah, you can do it!