Love Island's Camilla Is Everyone's New Hero After Dumping Jonny
15 June 2017, 13:05 | Updated: 14 July 2017, 11:11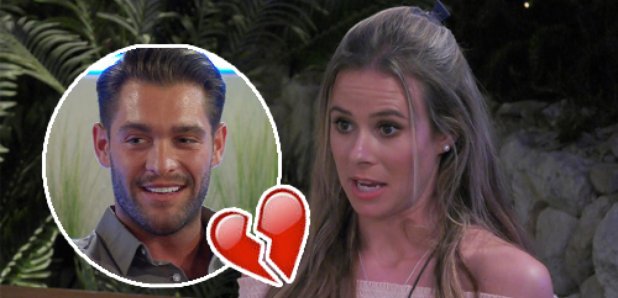 They had been tipped to become the new viewers favourite couple, but Johnny and Camilla found themselves butting heads on Wednesday night.
Love Island viewers found themselves rallying behind Camilla Thurlow after she called an end to her relationship with Jonny Mitchell.
The pair had been favourites to win the show after a blossoming romance in the last two days however the couple soon found themselves clashing after a heated debate on feminism.
While fans were shocked that the budding new couple went their separate ways, they praised Camilla for standing her ground on feminism.
Prince Harry's ex, Camilla became riled up when she discovered that Jonny had never let his girlfriend pay for herself during the entirety of their five-year relationship.
He also claimed he'd feel "emasculated" if a girl paid for dinner.
The conversation quickly escalated when Jonny suggested "real feminists believe in a slope towards them, rather than the man" and Camilla lost her tether.
Camilla hit back: "I don't think it's that, but I think it's difficult for men to see that there's been several generations which have been preferential towards men and therefore to redress the balance, there has to be in some way an active movement towards equality."
We all need a hug from Jess right now! Watching Camilla and Jonny break up is too painful #LoveIsland pic.twitter.com/EAqj9JwVjX

— Love Island (@LoveIsland) June 14, 2017
The next day, the couple barely spoke, and it appeared their argument highlighted to Camilla even more of Jonny's bad habits.
Confiding in Marcel, Camilla mused: "I'm not saying that he's not entitled to his opinion, I'm just saying that I can't agree with that."
After overhearing her conversation, Camilla offered up an apology to Jonny for talking behind his back, but the pair called it quits later that day.
OH NO HE DIDN'T! #LoveIsland pic.twitter.com/U9WlKAmjG7

— Love Island (@LoveIsland) June 14, 2017
Fans took to Twitter to share their disappointment that they didn't work out but praised Camilla for standing up for what she believes in.
When I thought I couldn't love Camilla anymore she stands up for feminism on love island. What a bloody intelligent woman #LoveIsland

— caitlin (@caaaayyyyt) June 14, 2017
Awwwwww Camilla and Jonny my heart is breaking. Please don't change like the others #LoveIsland

— Olivia Buckland (@OliviaDBuck) June 13, 2017
so camilla from love island dumped jonny bc he doesnt believe in feminism camilla you're doing amazing sweetie

— georgia (@esgaroths) June 15, 2017
Camilla has such a lovely presence and so much class. I hope someone sweeps her off her feet #loveisland

— Stephanie Ritcho (@CelebrityChat3) June 8, 2017
We hope she finds the man of her dreams.