Love Island's Chris And Liv's Baby Has It's Own Twitter Account And It's Hilarious
20 July 2017, 12:08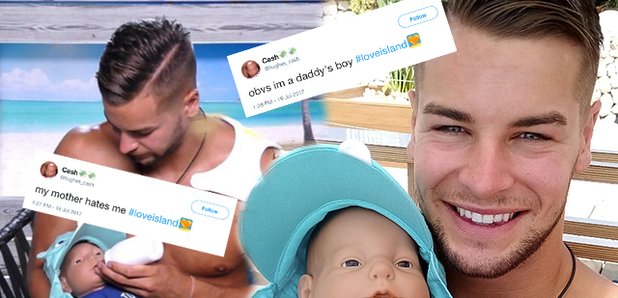 Last night saw the islanders take on the baby challenge and people are obsessed with Chris and Liv's little one.
Yesterday Caroline Flack teased the nation Tweeting that last night's episode of Love Island was her favourite yet and it certainly didn't disappoint.
It was the baby challenge! Where the couples in the villa were all given newborn simulator dolls to look after in the hopes of passing the parenting test and getting a potential prize at the end.
Hilarity ensued as we watched the islanders get to grips with picking out baby fashion for their new children and even picking some ridiculous names.
Sam and Georgia called theirs Star Sign and the whole country groaned simultaneously. Amber and Kem bickered over what to call their little one but Liv and Chris surprisingly took no time at all to get set on a name, and of course it was the most ridiculous in the bunch.
Cash Hughes, which Chris said was named after his and Liv's favourite thing Cashew's. Poor kid, thank goodness he isn't real.
Although thanks to Chris's emotional attachment to the little guy and every female fan of the show wanting to marry him as a result, somebody has created a hilarious Twitter account for the newly famous Cash Hughes and we can't help but chuckle.
forever thankful for my dad keeping me in the shade#loveisland

— Cash(@hughes_cash) July 19, 2017
obvs im a daddy's boy #loveisland

— Cash (@hughes_cash) July 19, 2017
The account is pretty complimentary about Chris' parenting methods but we can't help but get the feeling that Cash is less than pleased about Liv's mothering techniques...
can i legally disown my mother? #loveisland

— Cash (@hughes_cash) July 19, 2017
lowkey wish camilla was my mum #loveisland

— Cash(@hughes_cash) July 19, 2017
During the episode Liv looked less than impressed with her new found motherly duties while Chris took to being a dad like a duck to water even moaning at fellow islander Sam for not putting factor 50 sun cream on his baby.
We wan't more Cash and Chris moments on Love Island please!