Fans Praise Rio Ferdinand For 'Heartbreaking' Documentary, Being Mum And Dad
29 March 2017, 11:02 | Updated: 14 July 2017, 11:11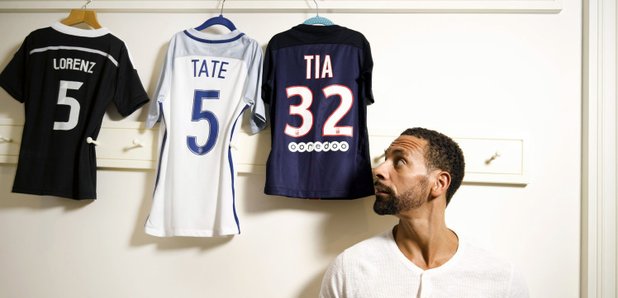 The former Manchester United footballer opened up about how he and his three young children are coping with the loss of his wife, Rebecca to cancer in 2015.
Fans were left 'heartbroken' by Rio Ferndiand's documentary about coping with the loss of his wife Rebecca Ellison, who died from breast cancer aged 34 in May 2015.
Rio and Rebecca have three children together, Lorenz, 10, Tate, eight, and Tia, five, who, as Rio explained, are struggling to open up and talk about their feelings at losing their mum at such a young age.
Tonight @rioferdy5 explores the impact that losing his wife to cancer has had on himself and his children. #BeingMumAndDad. 9pm. @BBCOne pic.twitter.com/Oa90f8cFgT

— BBC One (@BBCOne) 28 March 2017
Rio Ferdinand: Being Mum and Dad saw the former England captain open up about his struggles balancing being a dad whilst also dealing with his own grief. He explored the idea of therapy as a way to help his children be able to talk about their feelings.
On his own feelings and how low he got he said:
"There were times at the beginning, you kinda know how they feel. But when I look at my three kids, I couldn't do that to them," he said in the programme.
"I'm not saying I've thought about it, but you sink into this place, and I'm lucky with the people I have around me; family and friends."
Rio, 38, gave viewers an insight on to the journey he was taking to come to terms with his loss as he spoke to other widowers and healthcare professionals, seeking advice for both himself and the couple's children.
Rio and his children still have a long journey ahead of them, but they've all taken big steps forward together. #BeingMumAndDad pic.twitter.com/ijkdb1Eg1K

— BBC One (@BBCOne) 28 March 2017
Viewers - including celebrities - immediately flocked to twitter to show their support for the Match of the Day presenter.
Comedian John Bishop, James Corden and former-footballer Gary Lineker were quick to thank Rio for the insight.
Total respect to @rioferdy5 for his documentary tonight on BBC1. Moving and informative and something that will help others I am sure

— John Bishop (@JohnBishop100) March 28, 2017
A brilliant piece of television by @BBCOne and @rioferdy5 https://t.co/MVzypRMPch

— James Corden (@JKCorden) March 28, 2017
Just watched @rioferdy5 doc #BeingMumAndDad.
So moving.
Made me cry. You will, too.
BBC1, 9pm tomorrow.https://t.co/0mkVYLy4Ux

— Piers Morgan (@piersmorgan) March 27, 2017
Saw a screening of @rioferdy5 doc and cried about 4 times. It's thought-provoking, important and hugely emotive. Try and see it @BBCOne at 9 https://t.co/H3v9zjPejz

— Gary Lineker (@GaryLineker) March 28, 2017
watched being mum and dad with @rioferdy5
Heartbreaking! really gets me when I see another man cry.
Sure there r many in that position. X

— Howard Donald (@HowardDonald) March 28, 2017
You can catch up on Rio Ferdiand: Being Mum and Dad on BBC iPlayer.