Scarlett Moffatt Once Tried (And Failed!) To Contact Stephen Hawking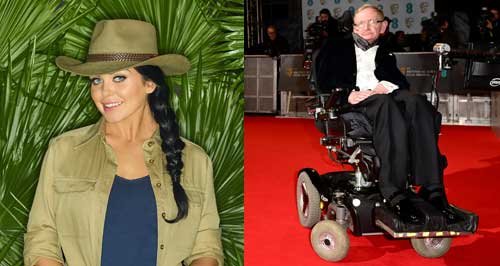 She's fast becoming one of the most loved personalities on I'm A Celebrity Get Me Out Of Here, but her latest gaffe takes things to a whole new level!
Professor Stephen Hawking is widely regarded as one of the greatest physicists that's ever lived and commands huge respect across all generations.
And Gogglebox's Scarlett Moffatt and her fellow I'm A Celeb team mates are no different!
During a conversation about the celebrity scientist, who Olympic Hockey star Sam Quek described as a "legend", the 26-year-old piped up that she'd once tried to contact the genius herself.
Speaking up about the escapade, the reality TV star explained how she'd once tried to email the Professor because she "had a theory about time travel."
Yep. You heard correctly.
The brunette then proceeded to explain her theory, or rather scientific "discovery".
To be fair to Scarett - she sounds like she almost had it down. What with her ideas about travelling faster than the speed of light...and the latitude of the Great Pyramids.
However, her compadres seemed slightly baffled by Scarlett's rationale, with model Lisa Snowdon asking "And you contacted Stephen Hawkins with this theory?"
Scarlett replied: "Well I was trying to look for his meal address, but it was a Hotmail account so I'm not too sure it was real."
LOL