Is Sharon Osbourne's Blunder Responsible For THIS Contestant's Elimination?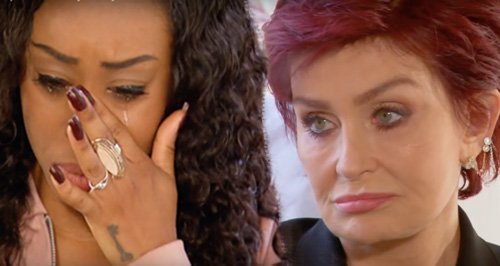 The 'X Factor' judge has been accused of being unsupportive of her contestants in the Overs' category.
Sharon Osbourne has been accused of not offering enough support to her contestants after Saturday night's show saw Relley C eliminated from the singing competition.
The 64-year-old judge is left with just two acts, rapper Honey G and Sarah Aalto.
Now Relley has revealed that she had virtually no contact with Sharon in the weeks leading up to Saturday night's live show, claiming that her mentor only sent her a text "once a week".
Relley C found herself in the bottom two on Sunday night. (Picture: X Factor Youtube)
The 27-year-old hotel cleaner told Daily Star: "Sharon messages me once a week to see if I'm happy with my song choice. Apart from that, she just leaves us to it."
Considering Relley's untimely exit, it does beg the question as to whether Sharon was hands on enough as a mentor, especially seeing as the now axed X Factor hopeful admits she would have liked to have spent more time with the judge.
"It would be nice to see her more or have more contact," she explained. "I'm just grateful she finds the time to send a message."
The revelation comes after Sharon was blasted for forgetting the names of Relley and fellow Overs' contestant Saara Aalto last week, and favouring controversial "joke act" Honey G.
Sunday night saw Relley battle it out in a fierce sing-off with Louis Walsh's girl group, Four of Diamonds, after finding herself in the bottom two.
However, she failed to collect enough votes from judges Simon Cowell and Nicole Scherzinger who both opted to keep the edgy girlband.
Do you think Sharon should have done more to help her acts in the competition?
Vote below!