Watch Simon Cowell's Priceless Reaction As Nicole Leaps On Matt Terry!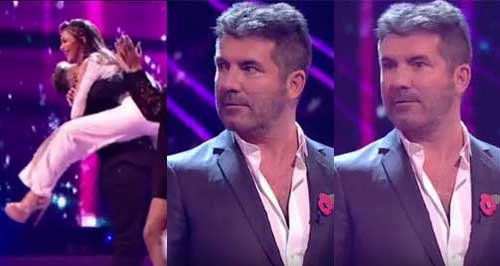 There are certain moments that will go down in TV history...THIS is one of them.
Nichole Scherzinger is known for her zest for life and enthusiasm in everything she approaches.
The 38-year-old is also takes her role as a judge and mentor on the X Factor very seriously...as was evident Saturday night's episode of the X Factor, when the beauty's enthusiasm for the TV game show all became a little too much for her!
Scherzy couldn't resist leaping up in the air and into contestant Matt Terry's arms, after she found the 22-year-old was safe in the competition.
The singer was so overjoyed when she discovered that the final member of her category was safe, that she jumped up into the air and wrapped her long legs right around her act.
The young singer rose to the occasion and lifted his excitable mentor high into the air, but most eyes were on fellow judge Simon Cowell's face during the proceedings!
The 57-year-old music mogul could barely conceal his look of shock and amazement at the sight before his eyes.
Eagle-eyed viewers were quick to Si's face and hone in on his hilarious reaction.
Simon's face when Matt lifting Nicole up hahahaha @TheXFactor

— B (@BronwynMurray) November 6, 2016
What was that all about with Nicole wrapping her legs around matt when he picked her up #xfactor... Simon looked disgusted @xfactor

— Melanie's WONDERLAND (@mel1706) November 6, 2016