If Soaps Are So Depressing Why Do We Still Watch Them?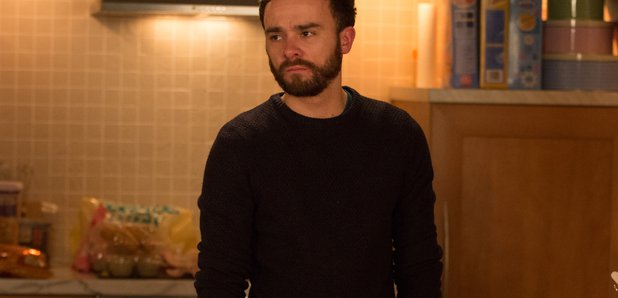 Every week something dramatic happens in Soapland, yet we still love to watch. Shouldn't we be tuning in to something cheerier?
Soaps have been a staple of TV watching life since Coronation Street sprang onto our screens in 1960.
It's now the world's longest running soap and since it introduced us to the streets of Weatherfield many others have been created including the equally iconic Eastenders as well as Emmerdale, Hollyoaks and Neighbours to name a few.
But the days of colourful streets, banter in the local market and laughter in the pub have descended into deaths, kidnappings and arson on a monthly basis.
For example, tonight Coronation Street will be airing controversial scenes which will see David Platt get drugged and sexually assaulted by supposed friend, Josh Tucker.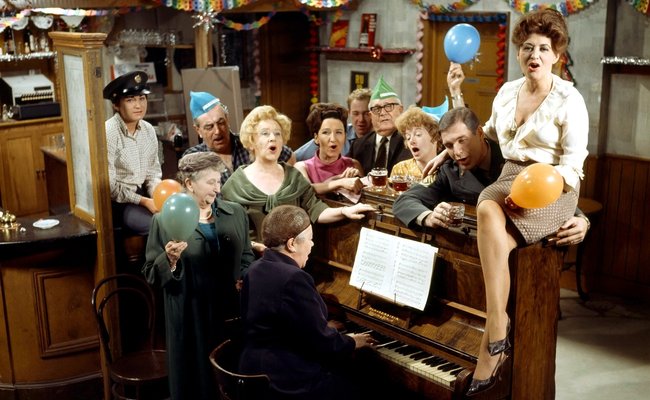 The most drama to happen during the 1967 Coronation Street Christmas episode was a tug of war contest | Picture: Rex
But for many who are used to the dramas of Soapland, shocking storylines like this won't come as a surprise.
Regular storylines in the past have included an acid attack in the Yorkshire Dales ,countless deaths in Albert Square and cheating partners on Coronation Street. Yes real life can be depressing at times, but soaps aren't reflective of real life anymore - they're like a nightmarish version instead.
We asked the Twitter-verse what they thought...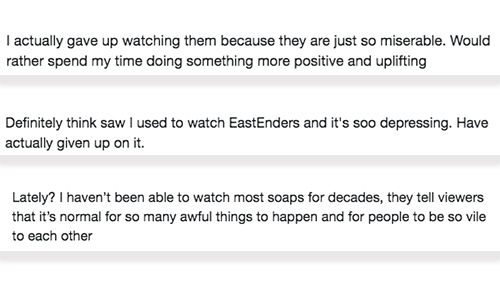 It's as if soaps are trying to normalise the worst parts of society on our screens, banishing the escapism they used to provide.
You'd think that after a long day at work the last thing we want to be confronted by is someone on TV having a harder day than we've had.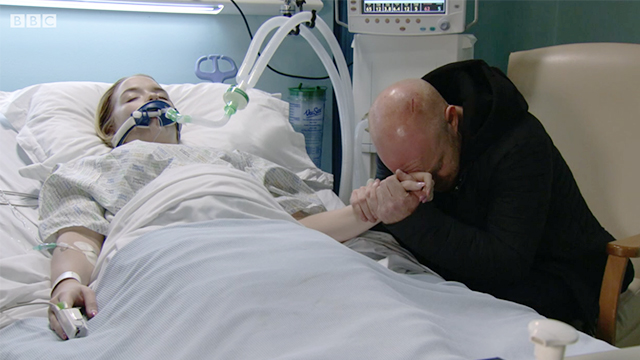 Eastenders' most recent big storyline was the death of Abi Branning after she fell from the roof of the Queen Vic while trying to save her sister Lauren | Picture: BBC
Or is that exactly what we want to see?
Where soaps used to provide a sunnier version of our lives, an idealistic view, they now provide a worse version for us to get sucked into for half an hour, turn it off and think 'thank goodness that's not me!'.
The most depressing parts of soaps these days also carry a heavier meaning in which they address real life issues that need coverage as part of the plot.
Take the acid attack that recently happened on Emmerdale.
This is an increasing epidemic that started in the capital but has since happened in many parts of the country, the storyline aimed to raise awareness about the awful crime and many fans praised the actors for playing the storyline so sensitively.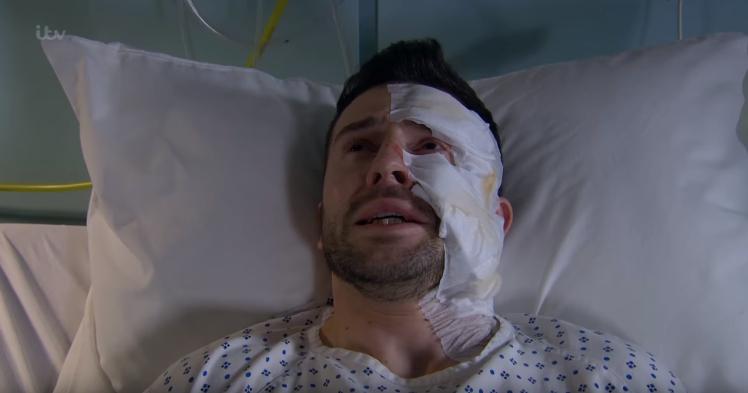 Emmerdale's Ross Barton was the recent victim of an acid attack | Picture: ITV
There is something to be said for depressing storylines in a way that they bring hard realities that some families face to the greater public.
Characters who have faced tough times such as cancer, discrimination, abuse and loss are all relatable to people who have gone through this and producers always add relevant helplines at the end of credits to assist those who need help.
Coronation Street producer Kate Oates has defended the decision to include the divisive male sexual assault storyline and argues that soaps play an important role in highlighting issues society face.
But when the world is all gloom and doom, we could certainly do with turning on the TV to something a bit more light hearted and soaps definitely need a bit of cheering up.