Buy These Limited Edition Stamps Now And You Could Be Sitting On A Fortune In The Future!
5 September 2017, 11:49 | Updated: 5 September 2017, 12:10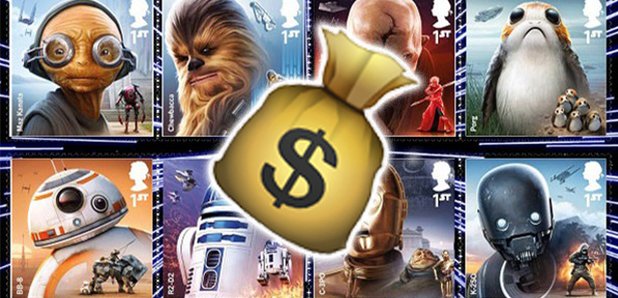 Royal Mail have just unveiled some Star Wars commemorative stamps.
In the exciting lead up to the new Star Wars film the Royal Mail have have released some special stamps to commemorate the release of The Last Jedi on 12th October.
The shiny new stamps designed by Malcolm Tween feature eight characters from the sci-fi film franchise but dont worry they don't give away any spoilers about the plot and feature no new characters.
Shiny new @RoyalMailStamps @StarWars creatures and droids stamps! @StarWarsUK #PORG #R2D2 #BB8 #C3PO #Chewbacca #K2SO #Maz #Snoke #LastJedi pic.twitter.com/Zl5Ly45VXr

— Malcolm Tween (@MalcolmTween) September 3, 2017
Specially picked to appear on the stamps are familiar characters from a galaxy far far away we all know and love. From top left clockwise is R2-D2, BB8, K2SO, C3PO, a porg, Supreme Leader Snoke, Maz and Chewbacca.
If you're a Star Wars fan and are wondering what on earth a Porg is then you'll be excited to hear that these adorable balls of fluff are new aliens that will appear in the next instalment of the Star Wars films.
These new #StarWars Stamps look incredible. The artist, @MalcolmTween, shows how they were created from start to finish. Check it out! #Porg pic.twitter.com/CmqeinVDLT

— Royal Mail Stamps (@RoyalMailStamps) September 4, 2017
If you bag the limited edition collection now they could be worth a pretty penny in a few years as Star Wars merchandise and memorabilia is notorious for fetching a lot of money years down the line.
For example, a toy Jawa (a tiny hooded alien from the films) that you could have bought at the local newsagents for 99p in the 1970's has been spotted on eBay for as much as $53,000.
So even if you're not a big Star Wars fan, it might be worth a trip to the Post Office after all!