Strictly Come Dancing Hopeful Reverend Richard Coles Wows Congregation With His Dance Moves
18 September 2017, 10:53 | Updated: 18 September 2017, 10:55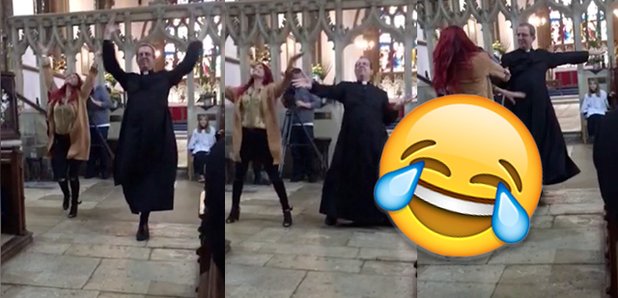 The reverend wowed his congregation with some fancy footwork ahead of his appearance on Strictly Come Dancing.
Many Strictly Come Dancing fans were probably surprised to hear that a Reverend would be taking part in this year's show...but once you see Reverend Richard Coles moves you'll definitely be excited for the new series!
The dancing vicar popped along to his usual Sunday service with the Strictly camera crew and a special guest for a surprise performance.
The Reverend was joined by dance partner Dianne Buswell for a special performance to 80s Eurythmics classic 'There Must Be An Angel' and it went down really well with his congregation.
He busted some moves and threw some shapes at the front of the church in what probably was a big departure from the sermons he usually gives during a Sunday service.
He's been in training for the new series, which begins next week, for a little while now but revealed to the watching churchgoers that it hasn't been smooth sailing.
He said: "I would like you to welcome my unfortunate partner who has put me through my paces this last week. She has had to put up with my breath taking moves. No pain, no gain."
"That is what I used to tell myself when visiting the gym, before my days as a vicar, but now those words ring true again. Especially after having to be pummelled by an emergency physio when I put my back out in training. I was strapped up and given ibuprofen."
We hope he makes a full recovery for next week's first episode - we reckon this year's Strictly is looking like it could shape up to be the best yet!