Who is Katie Piper? Husband, children and life before acid attack revealed
16 August 2018, 11:43 | Updated: 19 October 2018, 13:04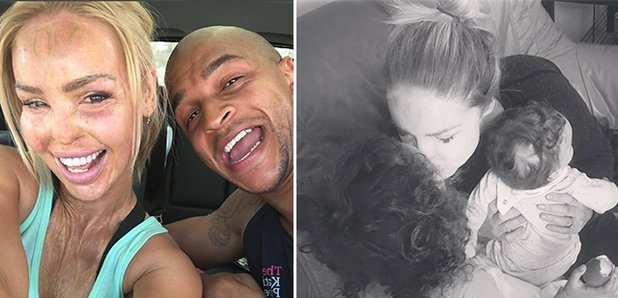 The mum-of-two suffered a devastating acid attack at the age of 24, but has since rebuilt her life in the most inspiring ways. Now confirmed for Strictly Come Dancing 2018, here's everything you need to know.
Katie Piper, 34, hit the headlines in 2004 after ex-boyfriend Danny Lynch paid Stefan Sylvestre to throw sulphuric acid in her face.
The aspiring model and presenter has since undergone over 250 operations and has had to rebuild all aspects of her life from scratch.
Now happily married to her husband with two children, Katie Piper has also confirmed she will be taking part in Strictly Come Dancing 2018.
Here's what we know about the author and presenter...
Who is Katie Piper's husband?
Katie has been married to Richard James Sutton since November 2015. Richard is a carpenter and builder, and the pair reportedly dated for two years before he popped the question in December 2014.
Katie and Richard were set up by a friend after she got them to exchange numbers.
Katie has previously let slip how well their first few dates went, saying: "James was chatty, witty and looked me squarely in the eye.
"He never once mentioned my burns, and because he didn't, I didn't either.
"He didn't even stare at them, so I didn't feel self-conscious. He had me relaxed and buzzing with confidence."
Does Katie Piper have any children?
Katie has two children - 4-year-old Belle Elizabeth and 8-month-old Penelope Diane.
Last year, Katie revealed that her eldest daughter, Belle, had started to ask about her scars - in particular the ones on her hands.
She explained: "She mainly asks about my hands. I just tell her I was burnt when I was younger, it did hurt, but it doesn't now.
"All she really says is, 'Be careful of your other hand' when I'm near the oven. But if she asks how I was burnt, I'll tell her the truth.'"
When asked about whether she would have more children, Katie has previously answered: "I feel completely fulfilled having our two girls and think they're enough.
"If anything did change, I think we would adopt. It's something Richie and I have talked about a lot and he's always been open to that."
What was Katie Piper's life like before the acid attack?
Katie Piper was an aspiring model and presenter with a qualification in beauty therapy.
In her early twenties, Katie finished as a runner-up in the Miss Winchester beauty pageant in 2006. She then moved to London to pursue a career in front of the camera, modelling for glamour and fashion magazines. She was also due to take part in model-based reality show, Candy Crib.
However, with many asking what happened to Katie, the day before she was due to film, she was doused in sulphuric acid after abusive ex-boyfriend Danny Lynch roped thug Stefan Sylvestre in to do the dirty work.
Danny, whom Katie had met through Facebook, had physically and emotionally abused her in a short but destructive two-week relationship.
Is Katie Piper taking part in Strictly Come Dancing 2018?
The author has confirmed she will be taking to the dance floor in a bid to wow the judges in this year's Strictly.
Katie posted a picture on her Instagram, with the caption: "Thank you for all your lovely messages. I'm super excited but very nervous about being a contestant on this year's Strictly - it's going to be a challenge but everyone who knows me knows I love a challenge so here goes... a new chapter in my life!"
WATCH! Katie Piper gushes about motherhood: