Susannah Reid Managed To Shut Up Peirs Morgan and Everyone Is Rejoicing!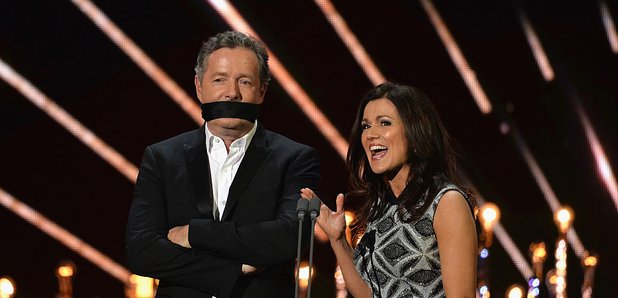 The Good Morning Britain host did what just about everyone wishes they could have done to Piers Morgan this week.
When it comes Piers Morgan, it's safe to say he's bit like Marmite - you either love him or you hate him.
So you can imagine the sheer delight of audiences when the outspoken journalist was gagged with tape by his Good Morning Britain co-host Susannah Reid when they appeared at the National Television Awards on Wednesday night.
Piers, 51, was greeted with hisses as he walked on stage with Susannah, who had covered his mouth with black tape following a "controversial week" after his remarks about the recent Women's Marches led actor Ewan McGregor to cancel a scheduled appearance on the breakfast programme.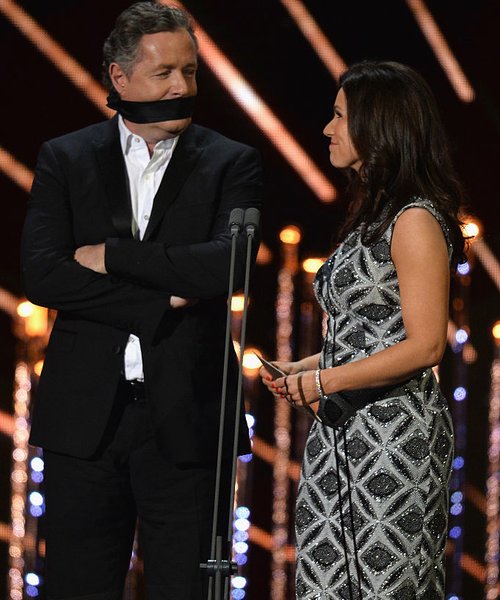 The 46-year-old beauty said: "It's been a controversial week on 'Good Morning Britain'. We've had tears, we've had tantrums - we've even had a walkout.
"So I've done what people have been urging me to do for some time ... I've finally gagged Piers Morgan. Just enjoying this moment."
Piers was left looking rather sheepish as the crowd continued to cheer in response to Susannah's hilarious gesture.
Viewers quickly took to Twitter to share their joy.
A huge congrats to crowd for booing Piers Morgan tonight. You lucky people got the chance to do something millions would like to do #NTAS

— Parveen Agnihotri (@Parveen_Comms) January 25, 2017
@piersmorgan Was there an award for most tolerant co-presenter in the world ever? @susannareid100 #NTAs

— Richard Hawkes (@richardhawkes) January 26, 2017
@piersmorgan top banter for your part in the gag last night. I think the the black gag will be worth a few ££££s right now. #topbloke #NTAS

— Allan (@allanappleby82) January 26, 2017
@radiotimes @piersmorgan @susannareid100 thank you Susanna for shutting Piers Morgan mouth up #NTAs

— stephen b (@stephenb2015) January 25, 2017
Speaking on the red carpet at the O2 Arena in London, Piers said that Ewan, 45, should "have it out" with him rather than simply refusing to appear on the programme.
He told the Daily Mirror newspaper: "We're in a bizarre world where things happen and social media goes nuts but, look, I like to debate things with people.
"I have an opinion and people are of course entitled to theirs, but if they don't like what I've got to say then let's have a debate about it. "His behaviour was odd. We weren't even gonna mention the Women's March. Come on have it out with me, I say - be a man, Ewan!"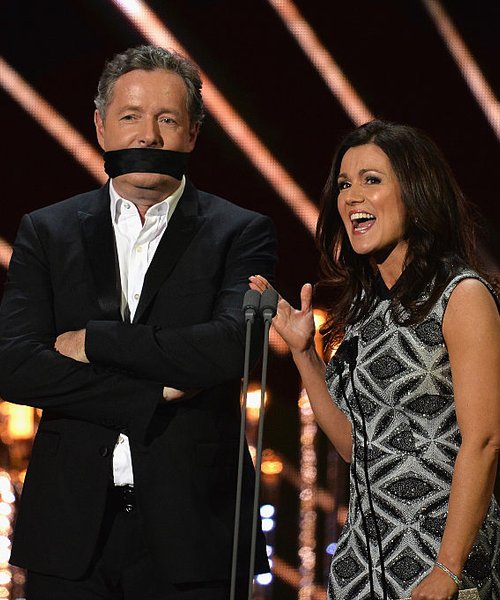 Piers stirred controversy with an article he wrote earlier this week in which he said he was "planning a men's march to protest at the creeping global emasculation of my gender by rabid feminists".
Those remarks prompted Ewan to reject a planned appearance on 'Good Morning Britain' after he learned Piers was set to interview him about his new movie 'T2 Transporting'.
Piers confirmed: "Ewan McGregor was meant to be the main guest on today's show, but he has decided not to turn up."
But the actor was quick to hit back via social media, writing on Twitter: "Was going on Good Morning Britain, didn't realise @piersmorgan was host. Won't go on with him after his comments about #WomensMarch (sic)"
Piers responded: "A real man would have come on and debated it with me, not run away like a coward."