The Most Awkward Oscars Moments We Can't Forget!
5 March 2018, 12:26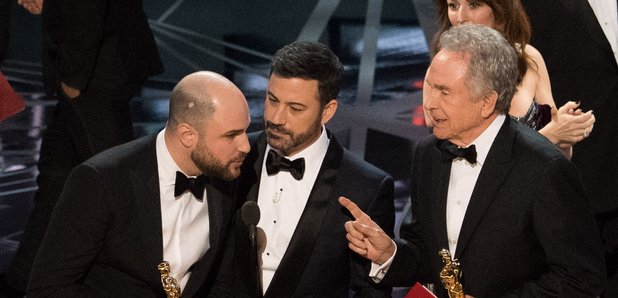 A rundown of the biggest Oscars blunders...
It's one of the biggest, most star-studded events of the year, that you can always count on for a blunder or two.
From last year's Moonlight, La La Land mix up to John Travolta introducing a singer with a random name he made up, The Oscars has had it's fair share of gaffes. Here's our faves…
2017 La La-Moonlight Gate
Taking the crown as possibly the most awkward Oscars moment to ever occur, is last year's La La Land, Moonlight mix up. It was the awkward moment when Faye Dunaway made the huge mistake at the of awarding the Best Picture Oscar to La La Land instead of its actual winner, Moonlight. What's worse is that it wasn't until after the La La Land cast said their speeches that the mistake was announced.
2000 Angelina Jolie smooches her brother on the red carpet
Angelina Jolie got a little too close for comfort with her brother, after being pictured making out with him on the red carpet. This came just three months after doing the same thing at the Golden Globes. If that weren't enough, during her Oscars award speech for Best Supporting Actress in 'Girl' she giggled: "I'm in shock, and I'm so in love with my brother right now." Get a room guys.
2013 Jennifer Lawrence Takes A Tumble
Jennifer Lawrence is pretty prone to falling down at award ceremonies. Fact. However, her 2013 fall that took place in as she climbed the steps to accept her award is probably the most unfortunate.
1997 Cuba Gooding Jr shouts his speech over the orchestra
Getting your speech cut off at award shows can understandably get pretty annoying, but not for Cuba Gooding Jr. Yes, when the music started playing towards the end of his speech, he just decided to shout over it instead. GENIUS.
2014 John Travolta introduces singer with the wrong name
Taking to the mic ever so confidently, John Travolta introduced Frozen star and 'Let it Go' singer, Idina Menzel as Adele Dazeem… which he later explained was down to the short space of time he had to rehearse the line.
2001 Bjork lays an egg on the red carpet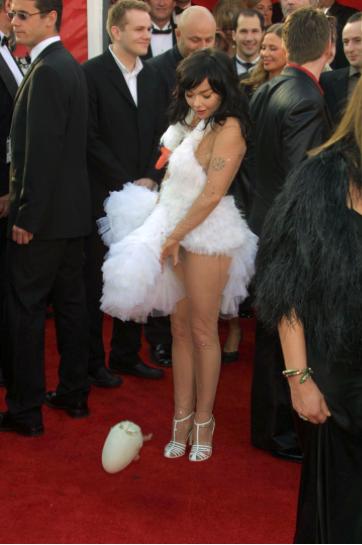 Bjork has never been one to shy away from a bold outfit choice, and her 2001 Oscars swan dress proved just that. Whilst many may have been waiting to spin a joke about laying eggs, Bjork managed to get in there first, and ACTUALLY laid an egg on the red carpet.
Watch more: