Tom Daley BBC Surrogacy documentary: Start date, times and details revealed
23 October 2018, 12:07 | Updated: 23 October 2018, 12:10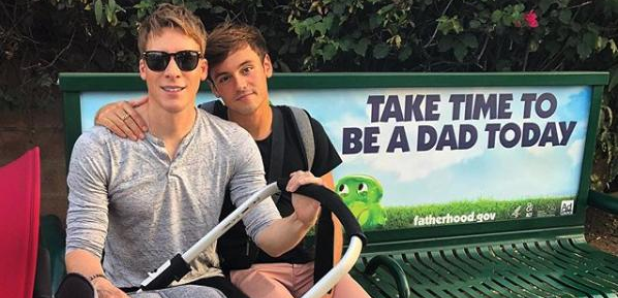 The Olympic diver is set to open up about his journey to fatherhood in a brand new documentary with husband Dustin Lance Black now that they are parents to their first child.
A new BBC documentary exploring surrogacy will star Tom Daley as he lifts the lid on the homophobic abuse he received during the process of becoming a father.
Tom, who welcomed his first son with husband Dustin Lance Black in July, will come face to face with people who oppose same-sex surrogacy as he travels to countries where it is still illegal.
The Olympic diver, who has still not yet revealed the identity of his son, is also expected to challenge UK laws that currently forbid same-sex couples advertising for surrogate mothers or paying them.
A source told The Sun newspaper: "Surrogacy changed Tom and Dustin's life, but as proven by the backlash they received it's still a divise subject, particularly where LGBT couples are concerned.
"With this documentary, Tom hopes to broaden minds, discover exactly why people are against surrogacy, and - after keeping a dignified silence so far - challenge some of his fiercest critics head on."
Here's everything you need to know including start date:
What is Tom Daley's surrogacy documentary about?
The BBC film will see Tom and his partner Dustin discuss the obstacles they had to overcome in order to become parents to their little boy.
What's more, the show will also documents the couple's first few days as parents.
Tom Daley documentary start date?
There is no word yet as to when the documentary will be released but it's reported Tom has already started filming and it will be shown at some point next year.
Where can I watch Tom Daley's surrogacy documentary?
The documentary will be shown on the BBC.