Lydia Bright Mocked For Getting These Questions Wrong On Mastermind…
5 January 2018, 17:23 | Updated: 5 January 2018, 17:40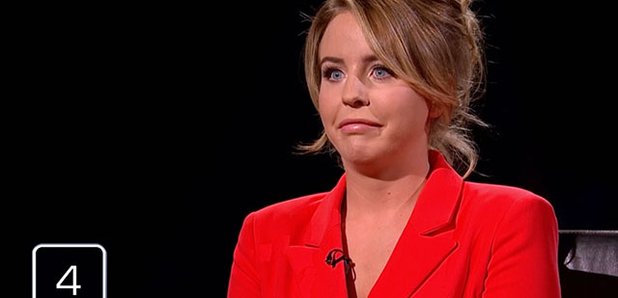 It wasn't her day...
Taking on the Celebrity Mastermind chair last night, TOWIE's Lydia Bright had no clue what she was letting herself in for.
The reality star picked Sex And The City as her specialist subject. Unfortunately for her, things started to go downhill, the moment she began, as she got the first question wrong.
John Humphrys asked her: 'Who was the only character – apart from Carrie Miranda, Charlotte and Samantha to appear in the pilot episode and series finale, An American Girl in Paris: Part Deux?'
To which she answered with the incorrect response of: "Skipper?" - when the answer was in fact Mr Big.
Things got worse for her when she was asked: "What is Steve's job when Miranda meets him in season 2?"
Despite answering correctly, her pronounciation was a little off, as she suggested the words: "bar-attender?" - and lost a point for it.
To be fair to her, she racked up 8 out of 11 points so didn't do too bad at all.
But fans weren't so forgiving with one commenting: "Genuinely thought I had tuned into a comedy sketch with Lydia Bright on mastermind"
Another added: "So Lydia is neither a celebrity or a mastermind and she certainly doesn't live up to her name" - ouch.
Others had faith in the star however with hopes that she will prove that, "not all Essex girls are stupid".
Lydia Bright going out of her to prove that all Essex girls aren't really stupid #mastermind

— Eddie Bennett (@sergeant_cecil) January 3, 2018
Exactly, it's for charity, people! Well done Lydia.