This Year In Epic TV Fails!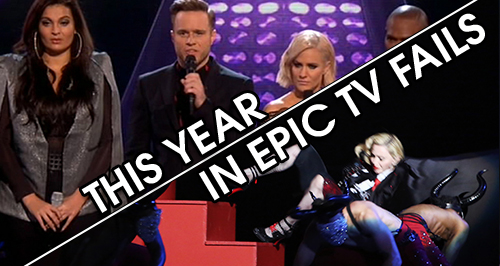 It's been a year of great live TV - but live TV doesn't alway go the way that it's been planned!
From Olly Murs' X Factor mess-up to Madonna's epic Brit Award fall, we take a look at some of the TV blunders that got us cringing this year.
I'm A Celeb's mobile malfunction
Ant and Dec suffered a major hiccup in an episode from the latest series of I'm a Celebrity, Get Me Out of Here!
For the first time on the show, Ant delivered some bad news to the celebrities using his mobile to call the red telephone box in camp. Unfortunately, the phone conversation cut out and campmate Vicky Pattison had no idea what he'd said. To make up for the rubbish phone call, a member of the film crew had to make the announcement to camp over a loud speaker.
And to make matters even worse, Ant's TV partner Dec could be heard getting annoyed saying: "Why didn't they just do that in the first place instead of making you ring them?"
All on live TV. Ouch.
Olly Murs' X Factor mess-up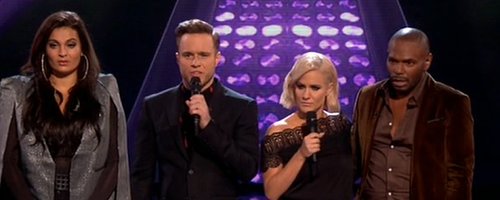 Monica Michael, Olly Murs, Caroline Flack and Max Stone. Picture: ITV | X Factor
We love this cheeky chap but there was nothing we could have done to save him from this massive mess-up. The Kiss Me singer announced that Monica Michael was going home before he was even handed the envelope revealing the results of the public vote, on live TV. He then had to backtrack, wait for the four judges to give their verdict, only to have to announce AGAIN that it was indeed Monica. Oh Olly.
Carole Walker's hair raising news nightmare
BBC news presenter Carole Walker was caught brushing her hair on live TV back in August when the cameras cut back to the studio too early. However, she kept her cool and continued to read the news in a boss-like manner.
Madonna's Brit Award blunder
This was one of the biggest talking points of 2015: when Madonna's cape got caught by a dancer and the super star ended up falling backwards LIVE ON ITV at the Brit Awards. We're still cringing.
How's Adam?
Did we all tune in to the Eastenders live episode back in March? Then you'll remember Tanya Branning asking Jane Beale "How's Adam?' instead of "How's Ian?". And her reaction just after she realised that she'd made the mistake... Oh it still has us cringing.
Ed Miliband's BBC Question Time exit
It was all going so well, right up until the moment Ed Miliband took trip off the stage during the election debates back in April.
Bill Murray's boozy chair mishap
Acting legend Bill Murray took a tumble off his stool on live TV! Okay, so he was a bit booze-fuelled as he told the panel of The Last Word with Lawrence O'Donnell that he'd just come from dinner with David Letterman, following his appearance on the penultimate episode of the Letterman Show. We'll forgive you this time Bill!
Can you think of any more TV blunders from this year? Let us know by commenting below!