Watch Emmerdale Stars Smash An Incredible Mannequin Challenge!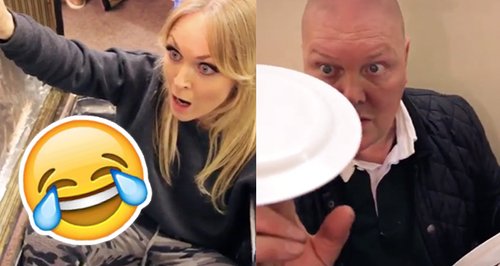 The stars took a break from learning lines to film this mannequin challenge video...and its SO good!
With lots of explosive storylines on the way, you might think that the stars of Emmerdate would be learning lines between takes.
NOPE! They were up to something way more fun...filming their very own mannequin challenge behind the scenes on the set of the soap.
Lots of familiar faces took part in the stunt, which was uploaded to Gemma Atkinson's (who plays Carly Hope) Instagram account.
Michelle Harwick who plays Vanessa is looks totally shocked while Laura Norton who plays Kerry is posed with some hair straighteners - we hope they're not turned on!
Perhaps the funniest moment in the whole video is Dominic Brunt who plays Paddy impressively balancing plates on his head and hands - his facial expression is golden!
The whole scene was steadily filmed by their assistant content producer Max Nicoll and it has gone down a storm on Instagram with fans commenting on how much they love it.
Is this the best mannequin challenge yet? Let us know!