WATCH: Holly And Phil Cringe At Woman Who Says She's "Too Hot" To Find Love
12 October 2017, 10:47 | Updated: 12 October 2017, 16:40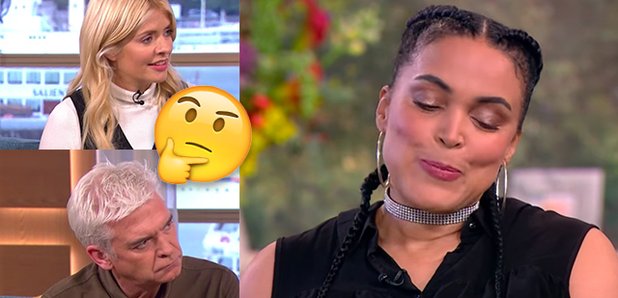 This confident woman took to the This Morning sofa to complain about the downfalls of being 'too attractive'.
Holly and Phil have had many different types of people joining them on the This Morning sofa with a wide variety of problems.
But there's a first for everything and this is the first time Holly and Phil have ever had someone who claims to be too attractive on the show!
Dawn Cousins said she finds it hard to find love because she is too attractive and even said that her children's friends find her irresistible too and a baffled Holly and Phil didn't hold back on asking questions.
Phil asked her why she feels she is having problems searching for love to which Dawn said it was "various reasons".
She explained: "Number one - obviously I'm a very attractive woman, number two - I'm very young, number three - I'm very fun and I'm not your typical 44-year-old woman with four children."
Well you can't say she has no confidence!
Phil tried to stifle giggles as he struggled to take her bold claims seriously while Holly continued to ask her questions, also clearly baffled.
Now it's safe to say that confidence is sexy but is this just arrogance? Many viewers took to Twitter to have their say and they gave some incredibly strong opinions...
Is she literally just on tv to say she's hot? Her attitude has wiped away any attractiveness she has. What a deluded mess #ThisMorning

— Lala (@NoseyParkerLala) October 11, 2017
Deluded woman on #ThisMorning saying she's 'too attractive to find love' and @Schofe trying not to laugh pic.twitter.com/mNwi9Yhu0w

— Ella Razzell (@xThePoutx) October 11, 2017
Well this is a woman who will remain single forever. Incredibly arrogant.... and deluded #thismorning

— Mathew Fletcher (@Fletchspur) October 11, 2017
We want to know what you think! Vote in our poll below to give your thoughts on what Dawn has to say...