WATCH: TOWIE Star Megan McKenna Blows Fans Away With Amazing Singing Voice
4 September 2017, 13:42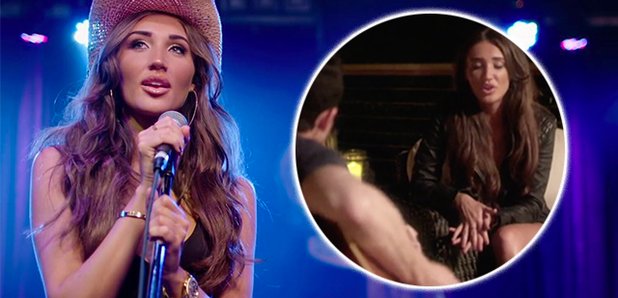 The Essex beauty headed to Nashville in her new TV show to take a shot at country music stardom.
You've probably heard of Megan McKenna because of her antics on The Only Way Is Essex or from her fiery temper when she was in the Celebrity Big Brother House.
But last night was the season premiere of her new ITVBe programme 'There's Something About Megan' in which she showcased some talents that took everyone watching by surprise.
The show will see brunette beauty Megan leave the comfort of Essex and head to the bright lights of Nashville, Tennessee AKA the home of country music in an attempt at singing stardom.
When we first got a taste of Megan's singing voice we weren't sure what to expect but it's safe to say everyone watching at home was blown away by her talents as she sung popular country music song 'Tennessee Whiskey' by Chris Stapleton.
Fans were quick to jump onto social media after viewing her performance and sing her praises...
Holy crap @Megan_Mckenna_ you can sing girl officially found a new show i am obsessed with.. #TheresSomethingAboutMegan

— Samantha Lowry (@SamanthaLowry13) September 4, 2017
I loved #TheresSomethingAboutMegan!! Your voice is beautiful and so unexpected!! @Megan_Mckenna_ I hope you get your record deal

— Amy Farmer (@AmyFarmer18) September 4, 2017
@Megan_Mckenna_
catching up on #TheresSomethingAboutMegan and I'm hooked!! your voice is incredible. Loving it. wishing you every success

— Karen T (@belfastKT) September 4, 2017
Just catching up on #TheresSomethingAboutMegan ... LOVE IT who knew she had that voice!! @Megan_Mckenna_

— orlaith mclaughlin (@3_orlaith) September 4, 2017
It seems like the general consensus is WOW, Megan, you can sing! It took a lot of people by surprise that's for sure and many will be tuning in again tonight to see how Megan's country music dream is getting along.
The show has taken Megan away from her Essex pals and boyfriend, fellow TOWIE star Pete Wicks, as she spend the summer in America chasing her dream.
There's Something About Megan continues this evening on ITVBe.