Millionaire contestant ignores husband's advice and loses £31k
9 May 2018, 11:36 | Updated: 9 May 2018, 11:56
Her 'phone a friend' call was to her husband, but she wasn't convinced by his answer and instead trusted Jeremy Clarkson.
Last night's Who Wants To Be A Millionaire was a painful watch as one contestant waved goodbye to £31,000 because she didn't listen to her husband.
Lynn from Cambridge was moments away from bagging £32,000 when she hit a snag after being asked who preceded Boris Johnson in the role of Home Secretary.
Already two life lines down, she at first chose to ask Jeremy Clarkson, 58, for his advice, (a new feature on the show) however Jeremy seemed unsure, and went along with Lynn's guess, 'William Hague'.
Lynn then decided to phone a friend, who in this instance was her husband - and he told her to go with the answer of 'Phillip Hammond'.
Sadly however, she chose to ignore her hubby's advice and go with the answer that herself and Jeremy had thought up, which turned out to be wrong. And her hubby was right!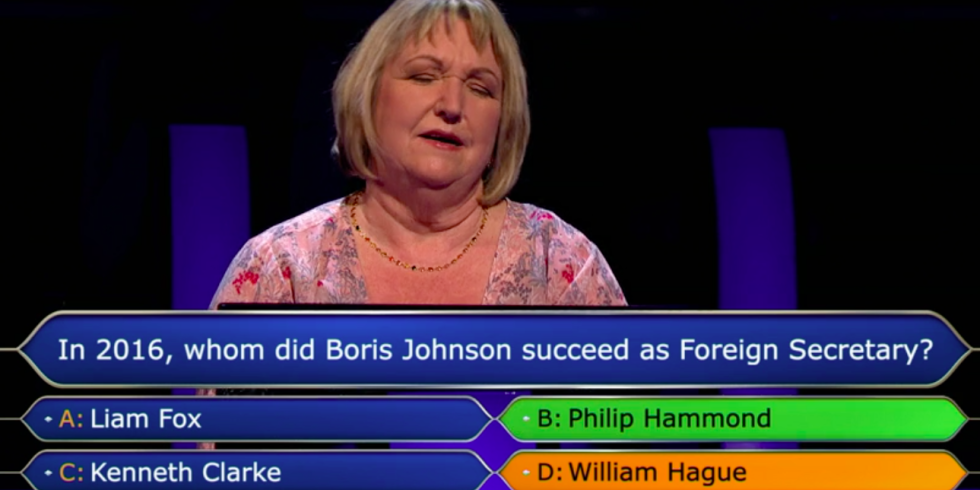 Head in her hands she said: "He's gonna kill me!" - to which Jeremy replied, "May I make suggestion – don't go home tonight."
Meanwhile, Lynn sent fans into meltdown over the moment of madness, as one Twitter fan exclaimed: "Lynn should of [sic] listened to her husband rip 31k feels bad man"
Lynn should of listened to her husband rip 31k feelsbadman #millionaire

— dan (@ProdigiousFive) 8 May 2018
NO! NO! NO! Lynn has just lost £31K.
Will anybody win anything above £32K this series.#Millionaire #WhoWantsToBeAMillionaire

— Peter H Todd (@Peter_H_Todd) 8 May 2018
Another added: "Argh Lynn, thought she was gonna make it for a moment #Millionaire."
Watch more: