Wife Of Saturday Night Takeaway Love Rat Breaks Her Silence On This Morning
16 January 2018, 13:17 | Updated: 16 January 2018, 13:22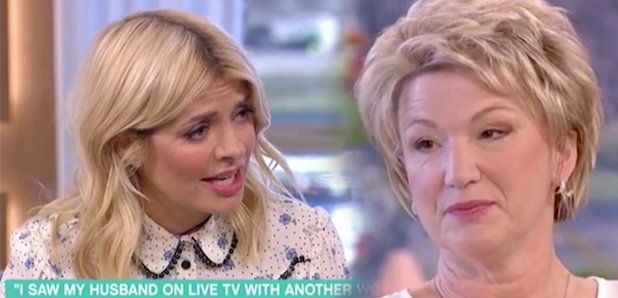 Helen Gundry was shocked to see her husband with another woman on Ant and Dec's Saturday Night Takeaway.
Helen Gundry settled down as usual to watch Ant and Dec's Saturday Night Takwaway on a normal weekend but was gobsmacked by what she saw when she tuned in.
Her husband Daniel was supposed to be working away in Dubai but instead she saw him on the show with his arms around another woman and posted this scathing message on the show's Facebook page...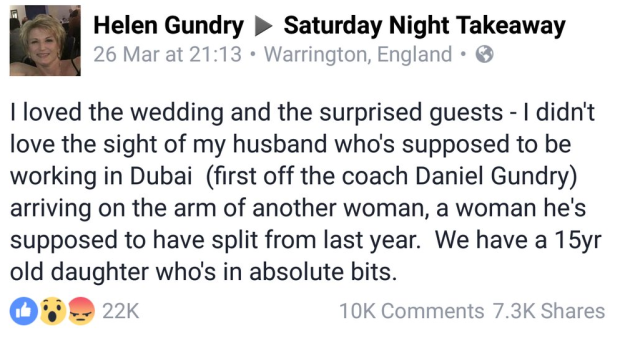 The woman turned out to be his new wife Susan, despite the pair remaining married and despite a break, rekindling their relationship to save their marriage.
The revelation led the two women to join forces and get to the bottom of Daniel's shady activity,
Helen took to the This Morning sofa to tell her side of the story to Holly and Phil...
She said of the Facebook post:
"It was a knee jerk reaction. I tried messaging him. We used to talk on WhatsApp every day. I could see he had read my messages but wasn't replying. He did finally phone me the day after but by then it had all gone viral."
When asked if his new wife was aware of his past she said: Absolutely not. At first he was insistent that it was just a blessing in the Seychelles which they go through for appearances sake in Dubai, so they could live together."
But by the time they reached the court the full truth has emerged and Daniel ended up receiving jail time for his wrongdoing.