X Factor's Scarlett Lee Looks Completely Different WITHOUT All Her Makeup!
9 October 2017, 12:21 | Updated: 9 October 2017, 13:01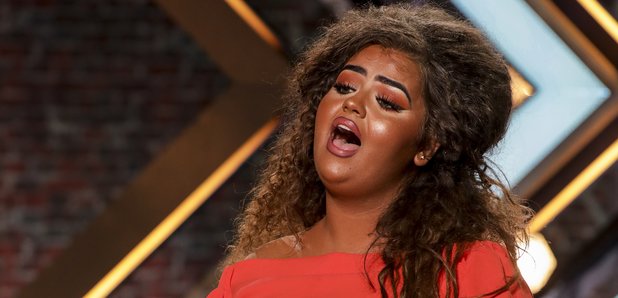 A photo of the self-confessed makeup addict shows what she looks like underneath all that makeup.
X Factor hopeful Scarlett Lee may have been given the boot during a tense six chair challenge on Saturday night, but it wasn't just her vocals that left a lasting impression on viewers.
The 20-year-old contestant made waves throughout the audition process for her larger than life voice and unique look, which at times left viewers divided.
The self-confessed make-up addict's heavy-handed makeup choices left some viewers bemused over the weeks, with many noting her pencilled eyebrows, over-lined lips and glowing tan, which at times left her looking far too orange.
Is it wrong that I want Scarlett Lee to get through so that they can give her a makeover & a good scrub? #xfactor2017

— Laura (@laalaa1983) October 7, 2017
Can't quite come to terms that Scarlett Lee is a make up artist, poor lass looks ridiculous #XFactor

— Elly (@ellysimone_) October 8, 2017
#ScarlettLee has an incredible voice but she needs to tone down the make up and fake tan! Just too much and distracts you from her voice!

— anisha2910 (@anisha2910) October 8, 2017
However, Scarlett hit back at claims that she binged on the fake tan, instead claiming that it's not the tan but the cameras that gave her skin its golden glow.
Either way, a new photo making the rounds is proving that Scarlett looks much better without the makeup!
A snap from before she auditioned for X Factor shows a vastly different look which shows her without makeup.
One fan tweeted a photo of the singer pre-makeover - before the big hair and the mahogany skin tone.
#scarlettlee aged 13, before she started varnishing her face...#XFactor #sixchairchallenge pic.twitter.com/NL3hAHXmV2

— Johnny Taylor (@the_able_seaman) October 8, 2017
The picture sees the young singer looking fresh-faced with barely any makeup on as she holds onto a microphone.
Meanwhile, Scarlett opened up about her unique look and insisted that she doesn't use fake tan but instead it was a makeup mishap!
"I never had tan on," Scarlett told The Sun. "I am genuinely dark, but the cameras made me look so much darker then what I actually was."
"I went and bought make-up and foundation for the TV and it just went horribly wrong. It made me look even darker."
WATCH: This X Factor Contestant Popped The Question Live On TV!
The bubbly singer took the criticism in good faith as she explained she prefers to see the funny side.
"The response has made me laugh, it's so funny." she said. "I've just been saying, 'orange is my favourite colour' and 'I love oranges'… I'd rather people pick on me as a person than be nasty about everything else."