Cheryl Tweedy confuses X Factor fans as she LICKS herself mid-performance
19 November 2018, 13:02 | Updated: 19 November 2018, 13:31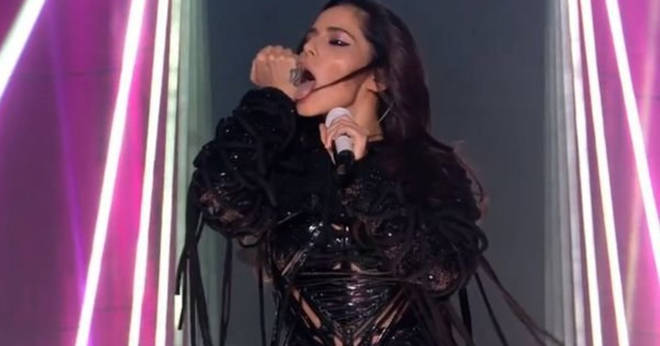 Cheryl divided her fans with her raunchy performance on The X Factor as she promoted her new single.
Cheryl Tweedy raised eyebrows on last night's X Factor when she LICKED herself mid-performance.
It was Cheryl's first time back on stage after quitting the spotlight to raise her baby son Bear, whose dad is her ex-boyfriend Liam Payne.
The 35-year-old chose to appear on the ITV show to singer new single Love Made Me Do It - but her over sexualised dance routine, licking and "dodgy vocals" overshadowed what should have been a triumphant comeback.
Read more: X Factor's Honey G starts new job as an estate agent
Taking to Twitter, one fan wrote: "Give it up Cheryl, you're embarrassing yourself #cringe".
Another tweeted: "Omfg how embarrassing is it for Cheryl when most acts on that show have more talent in their little finger than she does in her body, this is painful to watch."
A third added: "Good God. I've never heard anything so painful as Cheryl's performance."
Read more: Fans accuse Ayda Field of fixing the vote to save her husband's act
It seems Cheryl's sexy moves weren't the only topic of conversation as other fans were taken back by her changing facial features.
The observations came just days after Chezza admitted that having a baby had "changed" her face.
WTF did I just watch? My poor poor ears! Fair play to the contestants who can actually sing. Cheryl is an embarrassment and don't get me started on her face @TheXFactor #TheXFactor

— Michael Carlton (@Michael24819838) November 18, 2018
She looks different, I'm sure her face looked different or something...

— MissDubs (@TraceyTwalsh) November 18, 2018
Absolutely cringing at Cheryl on X Factor, she can't sing and what has she done to her face, it doesn't move?! 😟

— Mia (@miakisskiss) November 18, 2018
It comes after insiders revealed Cheryl had been hoping her comeback would be a performance to remembe but X Factor bosses feared it would be "too sexy".
"Cheryl wants this performance to be remembered and it will be.
"She has been in rehearsals for the last few days and the routine will see her writhing around on the ground with 12 hot men dancing around her.
"At one point there were fears the male dancers may even have their bums showing but now it seems they will be more covered up."