U2 give emotional tribute to the Manchester bombing victims on their opening night
20 October 2018, 12:18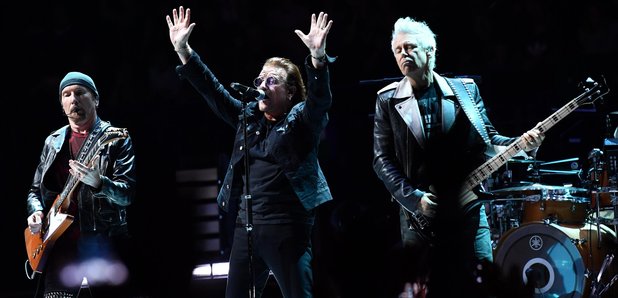 "This is a prayer for the safety of your children"
Rock band U2 made their first tour night count, delivering a moving tribute to 22 victims of the Manchester bombings last year.
Performing their track '13 (There Is A Light)', lead singer Bono said, "This is a prayer for the safety of your children".

On the 22nd May last year, 22 people died as a result of a suicide bomb attack during an Ariana Grande concert. Some of the victims included children.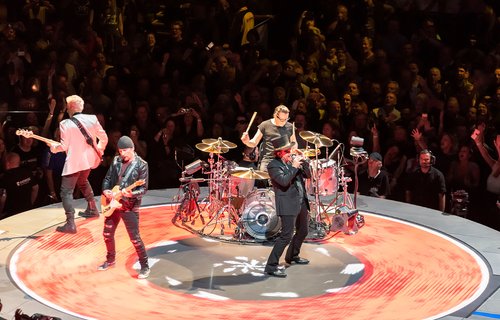 Some of the lyrics to the song include: "And if the terrors of the night//Come creeping into your days//And the world comes stealing children from your room//Guard your innocence //From hallucination//And know that darkness always gathers around the light."
And it seems that honouring the Manchester bombing victims wasn't the only political message that U2 had to deliver, with the rock legends also taking a pop at Brexit.
During the show, Bono was also recorded telling the audience: "We've been touring all across Europe and the resounding message is nobody wants you to leave.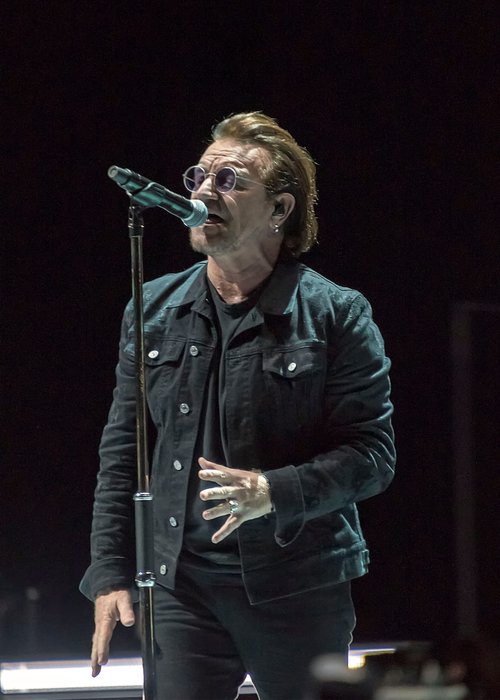 He continued: "I don't wanna break your heart or your balls but the band has been touring Europe. And whatever you think of it, people love you…People love this United Kingdom. For us it's more than a gold star falling off the flag. Without it the rest of us are just less."
Fans flooded Twitter with praise over the band's poignant performance with some labelling the show 'epic'.
What an epic first night in Manchester. Heard Zoo Station and a whole host of dynamite songs for the first time live this evening. Bono was in great voice. Definitely feeling the e stage for tomorrow's show #U2eiTour #U2SongsOfExperience @U2 @ManchesterArena #live #rock #band pic.twitter.com/3hxoRw6Lhr

— GEORGE MCCAULEY. (@georgemccauley) October 19, 2018
Best U2 gig since Popmart at Leeds. Absolutely blown away again. #u2eitour #U2Manchester pic.twitter.com/1g2CXWuJLJ

— RobShaw (@RobShaw777) October 20, 2018
#U2Manchester outstanding as always pic.twitter.com/aPuSMv8wfW

— Stuart Kay (@StuartKay21) October 19, 2018
My 46th @u2 show. And one of the very, very best. Just when you think they've let it slip a touch, they dream it all up again. A huge step up from NYC3 in the Summer. On to tomorrow....#U2Manchester #U2eitour pic.twitter.com/WXtzciH8V5

— Paul Maidment (@paulmaidment) October 19, 2018
A rainbow appearing at the U2 concert in the Manchester Arena this evening possibly a sign from the 22 angels lost here last May#Manchester #onelovemanchester pic.twitter.com/7zvNVpHr8m

— Sorcha Jane Farnan (@sorchajfarnan) October 19, 2018
Amazing show and showmanship @U2 #U2eiTour last night in Manchester pic.twitter.com/i3TQSQsO0q

— Tony Okotie (@tonyokotie) October 20, 2018
U2 are due to perform again in Manchester tonight (20th October) followed by further gigs in London, Belfast and Dublin to name a few.