Viewers Swoon Over This Hunky New Undateables Star!
9 January 2018, 12:38 | Updated: 9 January 2018, 12:45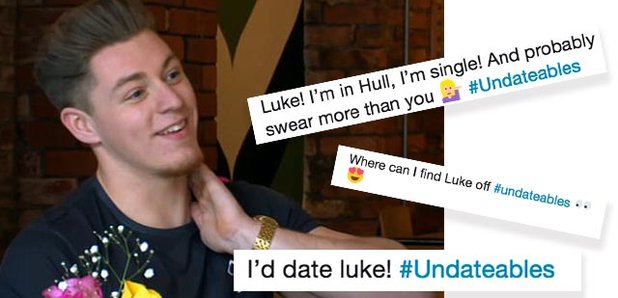 The rugby playing 19-year-old stole viewers hearts as they watched The Undateables.
The Undateables is back and this time with a whole new cohort of singletons looking for love.
But one such participant who stole hearts of viewers watching is Tourettes Syndrome sufferer Luke, 19 from Leeds.
#TheUndateables is back! Tune in tonight @9pm for a brand new series. On tonight, dishy rugby-player Luke... pic.twitter.com/luipZX8svj

— The Undateables Team (@UndateablesTeam) January 8, 2018
The student appeared on the most recent episode of the show which showed him suffering from uncontrollable verbal outbursts that often cause him to say inappropriate things.
But many viewers managed to see past his neuropsychiatric disorder and people were taking to Twitter begging for his number...
Can someone help me find Luke from the Undateables as i would like to date him please and thank you x

— amy (@ayymy) January 8, 2018
Luke! Tourette's or no Tourette's, how is he single????? Lovely looking and lovely personality #Undateables

— Helena Lucas (@bowstoes) January 8, 2018
Luke! I'm in Hull, I'm single! And probably swear more than you #Undateables @Channel4

— Marie Cromwell (@MsCrommers) January 8, 2018
Calm down ladies!
Other newcomers to the unconventional dating show include scoliosis sufferer Becky Dann and Fatima Timbo who was born with Dwarfism.
They visited Holly and Phil on the This Morning sofa to discuss their experiences in the dating world before joining the TV show.
We hope these lovely ladies are lucky in love!