Can You Spot Vanity Fair's EPIC Fail On Oprah Winfrey In This Pic?
26 January 2018, 10:47 | Updated: 26 January 2018, 11:33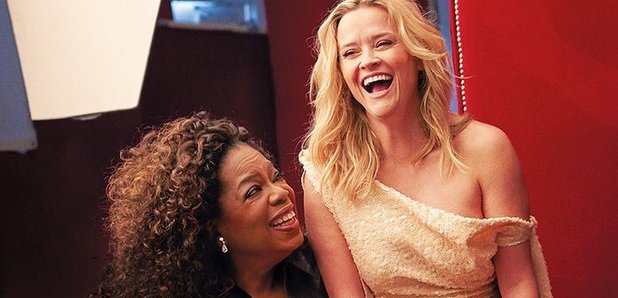 It was all HANDS on deck for this photoshoot.
Vanity Fair has been busy papping A-Listers for its coveted "2018 Hollywood Portfolio" photoshoot this week.
Amongst the stars are a handsome Tom Hanks, a picture-perfect Gal Gadot, a three-handed Oprah Winfrey and a three-legged Reese Witherspoon.
Yep, you read the last two correctly.
It seems that somebody accidentally decided to give Oprah Winfrey an additional hand:
"YOU get a hand! And YOU get a hand! And YOU get a hand!" pic.twitter.com/4lsl1vGW0K

— Tim Marcin (@TimMarcin) January 25, 2018
Look closely, and you'll see one on her hip, one on her lap, and one round Reese Witherspoon's waist.
Weiiirrrd.
And, of course, Twitter went into total meltdown at the blunder:
THE THIRD HAND IS TRYING TO TAKE HER DRESS OFF OMG!

— kelvin0mql (@kelvin0mql) January 25, 2018
Now we know how Oprah gets so much done.

— Grant (@AlmostReadable) January 25, 2018
What a mistake-a to make-a!
But it doesn't end there, remember we mentioned a three-legged Reese Witherspoon?
Here she is, in all her glory:
im tryna figure out how many legs reese witherspoon's got in here, it's been bothering me for the last five minutes pic.twitter.com/u1uQ63sDdd

— space wifey (@leiascaptain) January 25, 2018
Whilst some people are speculating that it may be the illusion of her dress that's giving her the extra limb, even Reese herself has acknowledged the photoshop fail.
Thankfully, she and Oprah don't seem too freaked out by their extra limbs, and have accepted each other as they are:
I accept your 3d leg. As I know you accept my 3d hand

— Oprah Winfrey (@Oprah) January 25, 2018
Vanity Fair posted the picture with the caption: "12 extraordinary stars, one very momentous year."
Perhaps what they should have said was: "10 extraordinary stars, 2 extraterrestrial stars, and one very momentous year!"
Too harsh?
WATCH! Oprah Winfrey Gives Powerful Golden Globes Speech: