WATCH: Channing Tatum Stops For A Dance Party In This Local Garage!
10 August 2017, 12:01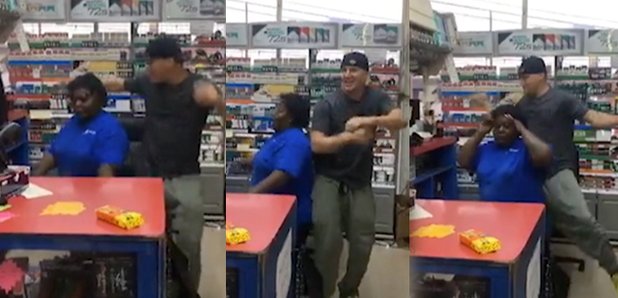 We couldn't be more jealous of the shop assistant at this local garage in North Carolina.
We probably couldn't count the times we've popped to the local petrol station to get some cash out, top up the car or buy a pint of milk. But we would certainly remember if we walked in to pay and stood by the till was none other than Magic Mike hottie, Channing Tatum!
This sounds like a dream, right? But it actually happened at a gas station in Statesville, North Carolina and we could not be more jealous of Beatrice the lady who works there.
In a spontaneous Facebook live post Channing filmed himself heading into the store to grab an iced coffee but ended up striking a friendship with Beatrice that turned into a full blown dance party!
The "21 Jump Street" actor explains the reason for the stop off is that he's on a road trip across the country and is heading to Nashville. When Beatrice questions where he's going Channing says "Is there a party?" to which she hilariously replies "we can have a party just me and you!"
The full video is over six minutes long and sees Channing chatting away to Beatrice and her customers. One customer doesn't realise who he is to which he cheekily responds "I'm the manager!" before cranking up the music and busting some moves with Beatrice.
He also kindly posed for photos with some visitors to the store who were probably shocked to see such an a-lister at the local garage!
Beatrice and Channing make the sweetest friends and their dance party has unsurprisingly been viewed by more than 10 million people on Facebook.
She's one lucky lady!