WATCH: Charlotte Hawkins Gets Emotional On GMB After Strictly Axing
16 October 2017, 12:33 | Updated: 16 October 2017, 12:35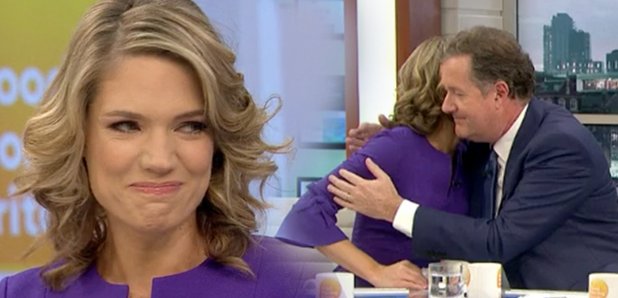 The Good Morning Britain news presenter had an emotional morning after she left Strictly Come Dancing at the weekend.
All good things must come to an end! And sadly this weekend it was Good Morning Britain host Charlotte Hawkins turn to leave the glitz and the glamour of Strictly Come Dancing.
The news anchor was the third to leave this year's competition which has already bid farewell to actress Chizzy Akodolu and Reverend Richard Coles.
It's easy to be jealous of the stars that get selected to take part in Strictly and don those gorgeous costumes and spend hours in the dance studios strutting their stuff.
But we forget what it must feel like when the magical experience comes to an end and Charlotte Hawkins certainly showed the emotion she felt on live TV as she reminisced with Piers Morgan and Susanna Reid.
She got tearful during GMB and said: "I'm sorry. It is a hard morning. It's just sad it's all over".
Piers showed his soppy side and offered his colleague a rather awkward hug and said "I'm here for you" and even joked that "if you're missing the dancing, I've got a clear afternoon, we can clear the schedule and cha cha to your heart's content!".
Now THAT would make great telly.
But despite Piers claiming he has been offered lots of money to appear on Strictly Come Dancing and the US version of the show, Dancing With The Stars, he made it clear this wouldn't be happening anytime soon.
What a shame! Seeing Piers Morgan wearing a cape dancing a Paso Doble would really make our day...and probably cheer Charlotte up too!