These 10 Crazy Moments On America's Got Talent Have To Be Seen To Be Believed!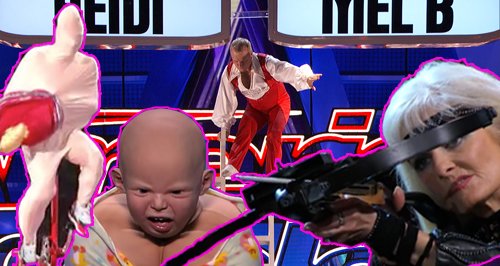 A man-sized human baby and a vomit-inducing fishing hook trick...these totally weird 'America's Got Talent' moments are not for the faint-hearted!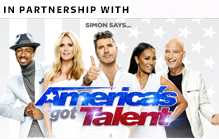 It's got to take a lot a guts to get up on stage in front of thousands of people and a panel of four famous judges - one of which is THE Simon Cowell - who hold your fate in their hands.
So when coming up with your act, you've got to be pretty darn confident you've got it right.
Which is why it's so bonkers when some acts just get it so wrong! Sure, they're talented, but is it something that people want to watch?
Here are some of the strangest acts to ever grace the stage of 'America's Got Talent'.
These are not to be tried at home!
Miming with tape on your face?!
If an act finds it difficult to speak to the judges it's normally because they're nervous but what do you do if your act can't speak? When Tape Man turned up on stage with his mouth sealed shut, the judges didn't know what to do.
A fishing trip gone horribly wrong
It is as weird as it sounds. Brad Byers grossed out judges when he stuck an 18" hook up his nose which came out of his mouth. He then went on to attach an anchor to it and swing it from side to side. Surprisingly, he earned a standing ovation from David Hasselhoff... This video is not for the fainthearted.
The human pancreas
Joseph Ravens shocked viewers when he turned up on stage in a bizarre looking morph suite with a mouth attached to it. Without even a 'hello' to the judges, Joseph started cycling a stationary bike and 'spat' pillows out of the mouth. His act earned him tumultuous boos from the crown. To be honest, we're still getting over the weirdness...
Tango dancing dogs
Don't get us wrong, we LOVE Olate dogs and we're super happy that they went on to win series seven! But if we told you about these dogs who can tango before you'd seen them do it, would you have believed us?
A man-sized dancing baby
Who on earth ever thought this was going to be a good idea? It was weird enough when a man dressed as a giant baby wrapped in a blanket walked on to the stage but things got really weird when the contestant said in a squeaky voice: 'Hi my name is the sexy baby.'
The cringe-inducing laughter coach
We know laughter is supposed to be infectious, but sadly this lovely lady couldn't convince the audience to jump on her funny train. If you have a low tolerance for eye-wateringly awkward moments, it's probably worth steering clear of this...
Pensioners using crossbows...to shoot themselves!
60-year-old grandma Silvia Silvia loves herself a deadly crossbow...fortunately, she knows how to aim! This death-defying OAP even manages to shoot an apple on her own head using a expertly rigged system. This should in NO WAY be tried at home...
A watermelon world record
Have you ever wondered whether you can smash a watermelon with your head? Nope, us neither, but Californian man Trizzie D turned his thought into a world record attempt! This chap's 'talent' is breaking watermelons and it makes us dizzy just watching him in action...
A pig in a tutu honking a horn
Again, we're not sure how a pig using his teeth to honk a plastic pink horn is a talent, but we have to laugh at Sharon Osbourne's absolutely delighted reaction.
Competitive egg eating...THIS is not for the queasy!
If you think eating three doughnuts in one go is the definition of over indulgence then look away now! This competitive eater took to the 'America's Got Talent' stage to present his talent...scoffing raw eggs. Euucckkk!
Watch Season 11 of 'America's Got Talent' on truTV on Tuesday nights at 8pm.
Which one of these crazy talents wins your weirdest award? Let us know below...