Watch James Corden Stop Traffic With This Hilarious Musical Performance!
12 June 2017, 13:21 | Updated: 12 June 2017, 13:24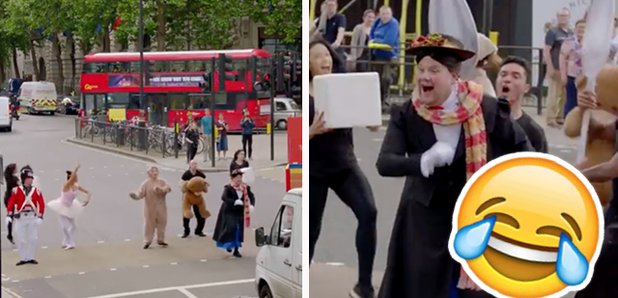 If you missed James Corden's Late Late Show antics last week then you HAVE to catch up on this!
Last week was so full of news such as the One Love Manchester concert and the all important General Election that you may not have realised that James Corden was in the UK filming some special London based episodes of the Late Late Show.
The British comedian gave his popular late night talk show a Brit twist for one week only which included a Carpool Karaoke with Ed Sheeran and a patriotic version of his hilarious segment, Crosswalk the Musical.
For those who don't know, James recruits dancers, singers and a famous face from the acting world to help him perform a musical on a crosswalk (or in our case, zebra crossing) while the lights are red and the traffic is at a stand still.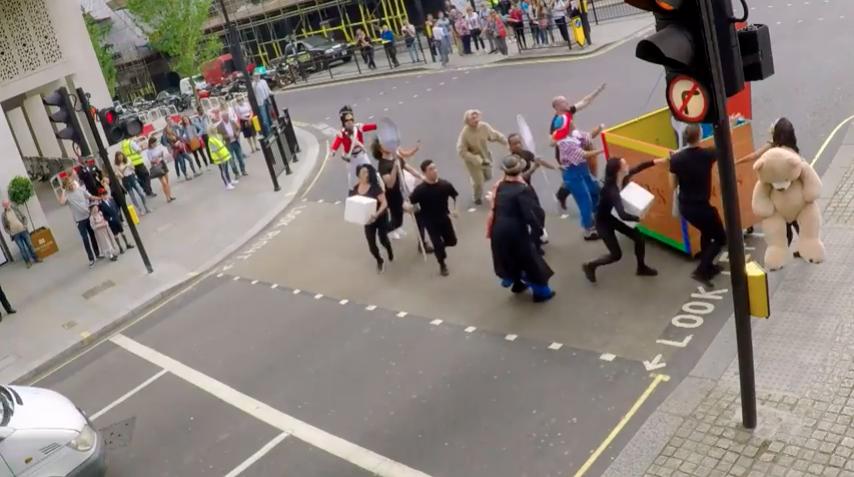 Past performances include Beauty and the Beast and Grease but this time round he went for the classic Disney film, Mary Poppins and of course hilarity ensued!
The video begins with James letting his cast know what musical they were performing and who would be performing the lead roles - himself as leading lady Mary Poppins and acting legend Sir Ben Kingsley as chimney sweep Bert.
This is SERIOUSLY worth a watch even just to see James in a full dress and a brunette wig...
They performed smash hit numbers from the musical including Just A Spoonful of Sugar, Supercalifragilisticexpialidocious and Let's Go Fly A Kite all impressively condensed into the time we get to cross from one side of the road to the other.
And it wasn't done half-heartedly either with full props and costumes thrown into the mix complete with a curtain call at the end.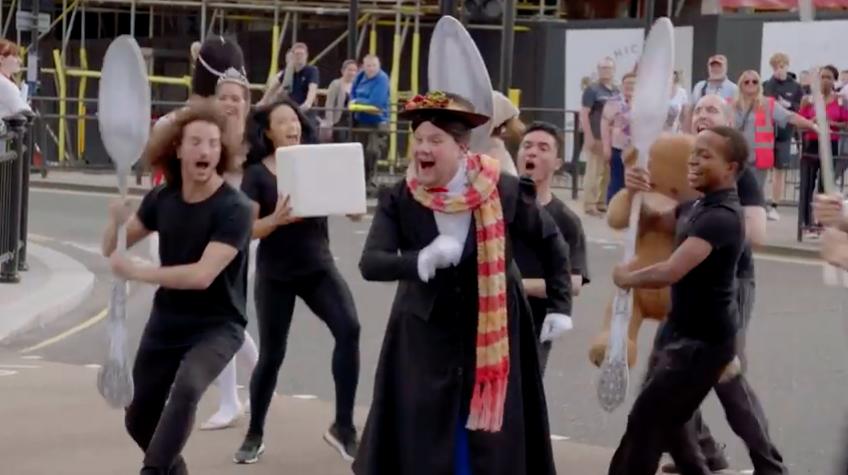 Most pedestrians seemed as though they couldn't believe their eyes and were loving the spectacle but Sir Ben Kingsley joked at the end: "You should have seen the looks on their faces! It was pure, pure joy except that van driver. The hatred coming off his face was awesome! But for the rest, pure joy!".
You can't win them all, but this musical spectacular definitely gets a five star rating from us!
Watch the whole performance in full on the Late Late Show Youtube channel
here
.