WATCH Dame Judi Dench's Rap Debut With THIS Rapper
15 September 2017, 12:25 | Updated: 15 September 2017, 12:57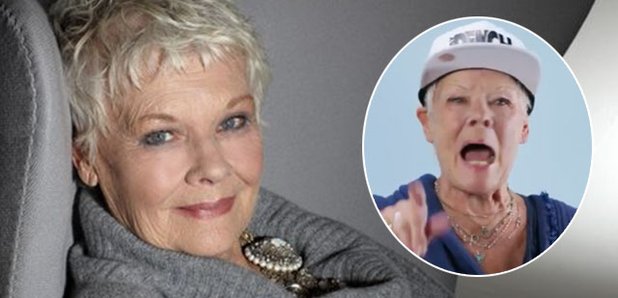 Dame Judi Dench hits the studio with rap artist, Lethal Bizzle
It's fair to say we never saw this one coming, but Dame Judi Dench is REALLY trying her hand at a bit of grime.
Convinced by grime artist Lethal Bizzle to join him in rapping some of his songs, she took up the hilarious challenge and nailed it!
So to answer the question of how this unlikely pairing came about… both stars happen to have the word "dench" in common - as well as being Judi's surname, it's also a slang word that Bizzle made up, meaning "nice". If that's not a good enough reason, we don't know what it is.
Unsurprisingly, the video sent Twitter into melt down, with fans not being able to get enough of Judi's rap debut.
Many praised her for her rap skills whilst others said it was the "best thing" they'd seen all week!
When you see Dame Judi Dench is trending and think the worse.... Only to realise she's rapping! #alliswell

— Sarah (@SED2608) 14 September 2017
Dame Judi Dench attempting to rap with Lethal Bizzle has to be the BEST thing I've seen all week pic.twitter.com/xzMbBbwMJY

— Zara (@Buncrossedd) 14 September 2017
Judi Dench makes an excellent rap debut! #JudiDench #lethalbizzle #rap #Dench #damejudidench #pow #CELEBRATE https://t.co/kj0qNmTHKF

— Sarah Dransfield (@SarahDeeRTT) 15 September 2017
I dare anyone not to smile watching #JudiDench rapping. As if you couldn't love her more :) https://t.co/ll5e86NTUe

— Jeannie Shapiro (@jeanne_jeannie) 15 September 2017
We have a feeling this isn't the last we'll see from 'Ju to the D'!