Watch David Beckham Complete A Mile High Challenge For A Great Cause!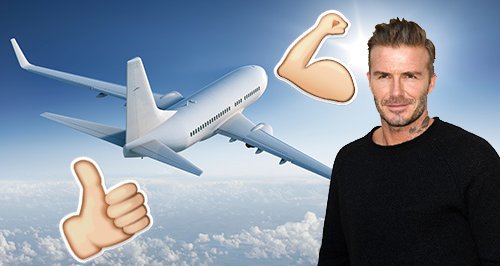 The star completed a charity challenge in an usual location...a private jet!
David Beckham joined an unusual sort of mile high club when director pal Guy Richie nominated him for the '22-push-up challenge'.
The challenge, which has being doing the rounds on social media recently to raise awareness for the 22 men who take their lives from PTSD everyday.
The task involves 22-push-ups for 22 days and those who have taken part then nominate friends to get involved and spread the word!
The 41-year-old football superstar posted a video of himself completing the challenge on Instagram in which he appears to be in none other than a private jet!
Speaking passionately in the video about his first hand experiences, the star says "I've been to Afghanistan, I've seen the courage of our troops".
He continues "if there's anything that I can do to raise awareness of the situation I can".
He showed off his tattoo physique and great shape while performing the push -ups, appearing to not even break a sweat despite having being retired from football since 2013.
He finished off the video with a cheeky glance to the camera saying 'and by the way, that was at 45,000 feet Mr Richie!'.
Looks like he nominated Justin Theroux and son Brooklyn Beckham next, so we're keeping our eyes peeled for those videos!