WATCH: Denise Welch Is Every Proud Mum In This Funny Video Clip
3 July 2017, 14:27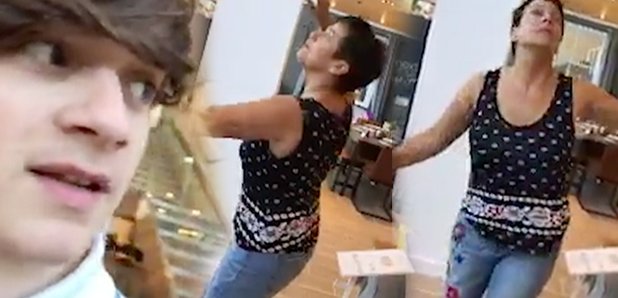 Denise Welch does some classic mum dancing in the middle of a high street shop when she hears her son's music.
When your children reach a certain age, almost everything you do will be classed as embarrassing.
But Denise Welch took it to the next level on a shopping trip with her youngest son Louis recently and shared her hilarious antics over on Twitter.
The Loose Women star's eldest son, Matt Healy, from her marriage to actor Tim Healy is now famous in his own right as the lead singer of indie band The 1975.
For those who don't know, the band are a pretty big deal and have played huge venues such as Glastonbury Festival and the 02 Arena. So it's no surprise that she's a super proud mama!
And not many mums will hear their son's voice singing while they're wandering around Next looking at clothes, so it's no wonder Denise decided to dance around and get her son to film the moment.
But it seems like Louis couldn't take the cringeworthy moment for too long as he spins the camera onto himself to say "this is the worst thing that's ever happened to me in my entire life".
A tad dramatic Louis, your mum is fab! But then again he's not the first teenager whose ever been embarrassed by their parent in public, and it's one of the great pleasures of parenting to be able to mortify your kids at times.
When your eldest sons song comes on in Next and you ask your youngest to film you..... pic.twitter.com/6P9GFo5Brj

— Denise Welch (@RealDeniseWelch) July 2, 2017