Gwyneth Paltrow's Children Singing On Stage With Dad Chris Martin Will Give You Goosebumps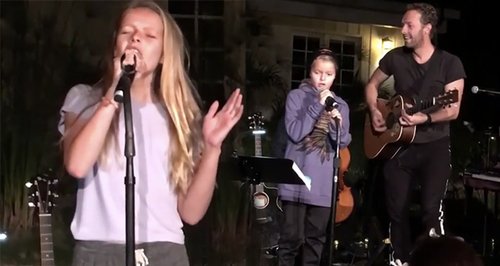 The children joined their father on stage at a fundraiser for the Boys and Girls Club in Malibu.
They may look like the spitting image of their mother, Gwyneth Paltrow, but it seems that Apple and Moses Martin takes after their father, Coldplay's Chris Martin.
Apple, 12, and Moses, 10, joined their father on stage at a fundraiser for the Boys and Girls Club in Malibu, one after the other to perform solo cover tracks, with Chris on the accompanying instruments. And if truth be told, they've both got a great set of lungs on them!
Apple dressed down in comfortable tracksuit bottoms and a plain t-shirt when she covered Ariana Grande's a Little Bit of Your Heart, with her musical father on the piano.
She needed very little encouragement from her dad and it's clear that she's very talented.
Chris played guitar for Moses as he sang Twenty One Pilot's House of Gold. Like father like son, he even wore his dad's favourite sweater and covered his golden locks with a backwards baseball cap.
It's not the first time that Chris and Gwyneth's children have joined him on stage. Back in June, they joined Coldplay on stage as they paid tribute to the band Viola Beach, by covering their song Boys That Sing. All four members of Viola Beach - Kris Leonard, River Reeves, Tomas Lowe and Jack Dakin - along with their manager Craig Tarry plunged to their death from a bridge in a tragic car accident in Sweden in February.
Gwyneth Paltrow and Chris Martin divorced in 2013 after 13 years of marriage, describing it as a "conscious uncoupling". The couple remain close friends and co-parent the children.