Watch James Corden Blast Donald Trump's Military Ban With An Hilarious Song
28 July 2017, 10:37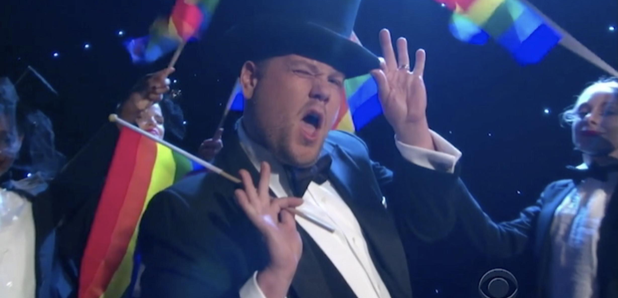 James Corden poked fun at Donald Trump in the best way after he revealed his transgender military ban this week.
Another week, another reason for everyone to shake their heads at Donald Trump.
This week's shocker from the President of the United States was his decision to ban transgender military personnel from the US army and what's more, he broke the sensitive news over Twitter to a shocked world.
Many have spoken out against POTUS' decision, including high profile members of the trans community such as Caitlyn Jenner and Orange Is The New Black star Laverne Cox.
But now James Corden has come forward to express his disappointment and he did it in the most creative and hilarious way. He performed a musical number on his talk show, The Late Late Show, called 'LGBT' sung in the tune of L-O-V-E by Nat King Cole and we hope Donald Trump sees this...
The comedian changed the lyrics to the famous song to some pretty funny ones which include calling Donald Trump "dumb" and also making fun of his "tiny hands".
He also points out that Trump's logic of banning transgender citizens in the army to save budget is totally flawed as in reality "it only saves that budget 0.04%".
The song's rousing finale comes as James and his dancers whip out some rainbow flags before singing "LGBT we love all of you!"
James' show is normally focused around celebs and some hilarious skits making fun of what's been in the news that week so it's out of character for him to get political but we're glad he did because this has seriously made us chuckle.
Keep spreading the love James! Watch the full video below.