Watch Jedward Awkwardly Gatecrash Unsuspecting Carol Singers!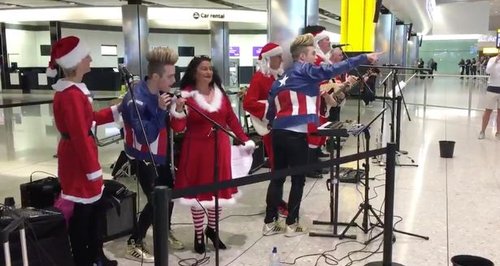 Watch the X Factor twins, Jedward, take the microphones from some unsuspecting carol singers! Cringe!
We've not heard them sing or seen their iconic blond quiffs for some time now, but it looks like the terrible twins are back and are as cheeky as ever!
Jedward - singularly known as John and Edward Grimes - gatecrashed a choir of carol singers at Heathrow airport after arriving from a flight to Dublin.
Saw @planetjedward at Heathrow today, they were nice enough to sing a song with a band of Santas for charity despite just landing pic.twitter.com/OHDsGmWjjX

— Hassony (@hassony77) 13 December 2016
The twins, famed for making it on to the live shows of the X Factor 2009, joined the band of merry singers in the arrivals lounge, wearing matching stars and stripped jackets.
Well, we say joined, but taking over the microphones might be a more accurate description!
John and Edward belted out their rendition of Wham's Last Christmas to travellers as they arrived in the UK.
After much chest clutching and waving arms in the air, Jedward gave it their all during a trumpet solo.
Last week, it emerged that Jedward will be returning to Celebrity Big Brother, which will undoubtedly help them through some financial troubles. Their entertainment firm, Planet Jedward, has made a significant loss over the past two years.
Still, they're great fun and fabulous telly entertainment so let's hope it's all up hill from here!