WATCH: Kevin Hart Calls On His Celebrity Pals To Help Hurricane Harvey Victims
29 August 2017, 15:35 | Updated: 29 August 2017, 16:18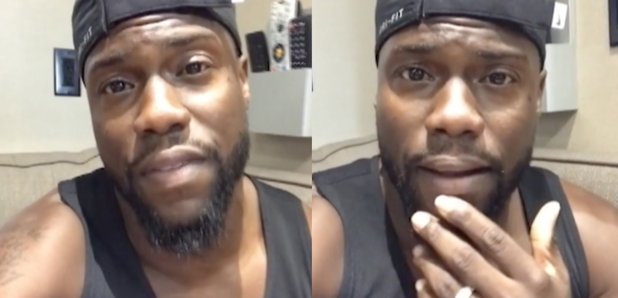 The comedian took a more serious tone as he called on some famous names to donate money to the relief effort.
You won't have been able to go online or watch the news without hearing about the devastation caused by Hurricane Harvey in the south east of Texas after it hit the US coast over the weekend.
Unprecedented amounts of flooding has occurred in the affected area with many families losing their homes in a life changing series of events due to the tropical storm.
Many celebrities have rallied around the victims including US funnyman Kevin Hart who has called on his celebrity pals to donate money and spread the word in what he is calling the Hurricane Harvey Challenge.
In the video he said "serious moment right now, i've just been caught up to speed with everything going on in Houston". Referring to the likes of the Ice Bucket Challenge which raised money for the ALS charity he said " we participate in a load of challenges on the internet, some meaninful some meaningless" and continued "I'm gonna start a real challenge, challenging a lot of of my celebrity friends to follow my lead in donating $25,000 to Hurricane Harvey, to the Red Cross".
He went on to name and tag some of his A List friends including Beyonce, Chris Rock, Dwayne Johnson and many more to get the ball rolling and raise awareness for the worthwhile cause. He has also created a fundraising page which has already raised over $200,000 dollars for the cause.
Beyonce, who is originally from Houston one of the severely affected areas told the Houston Chronicle;
My heart goes out to my hometown, Houston, and I remain in constant prayer for those affected and for the rescuers who have been so brave and determined to do so much to help."
She continued: "I am working closely with my team at BeyGood as well as my pastor [Rudy Rasmus at St. John's in downtown Houston] to implement a plan to help as many as we can."