Was This 'Wheel Of Fortune' Contestant The Worst Of All Time?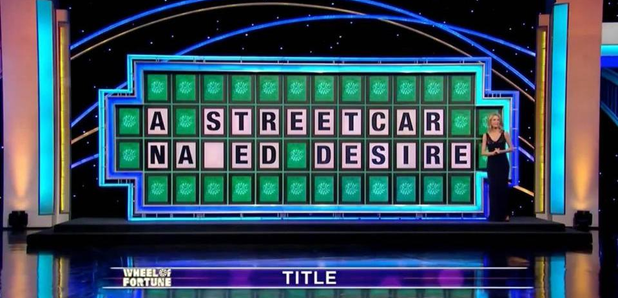 *Facepalm*
Game shows are meant as a bit of light entertainment, half an hour of escapism. Just a bit of fun, nothing too heavy.
But sometimes it gets serious, sometimes events take a turn and the audience gets overwhelmed by the realness of it all.
America deserves to know how Kevin made it to Wheel of Fortune.

— Sol to Seed Farm (@soltoseedfarm) March 22, 2017
Yesterday it was The Chase, as viewers were outraged that poor Darragh was let down so badly by less-than-tactical teammates.
Today's Very Serious Game Show story comes from America, as one contestant has been dubbed the worst ever. We all loved Wheel of Fortune when it was broadcast over here, back in the 90s when beloved Bradley Walsh was the host.
Is anyone watching #WheelofFortune tonight? Kevin might be the worst contestant ever.

— Heather Hultquist (@hhultquist) March 22, 2017
But there was nothing this unbelievable during his tenure. The American edition has gone viral because a player gave an answer so daft, so bloomin' smutty, that you must see it to believe its silliness.
Poor old Kevin was given one of the easiest clues imaginable. It was the name of the Tennessee Williams play A Streetcar Named Desire, which won the Pulitzer Prize for Drama and was famously made into an Oscar-winning film starring Marlon Brandon… except one letter was missing.
And for the win... @WheelofFortune #wheeloffortune #lol pic.twitter.com/ICBeU51GmU

— Jamie Hawryliak (@jamiehawryliak) March 21, 2017
What could it be?
Mucky minded Kevin plumped for a 'K', apparently believing to the title in question to be A Streetcar Naked Desire, which is strange and wrong.
When another contestant had a better punt than Kevin – not hard to achieve – host Pat Sajak quipped: "Well, funny little game. And although you got the right answer, I'd rather see Kevin's play."
Naked?? Kevin you suck! Go home! #wheeloffortune

— Rachel Faleide (@rachelred22) March 21, 2017
Who knows what the world of light entertainment game shows will present us with tomorrow! We'll be sure to keep our eyes peeled…