EXCLUSIVE! Emma Bunton Speaks For The First Time About THAT Spice Girls Picture On Heart!
5 February 2018, 14:39 | Updated: 4 November 2018, 10:15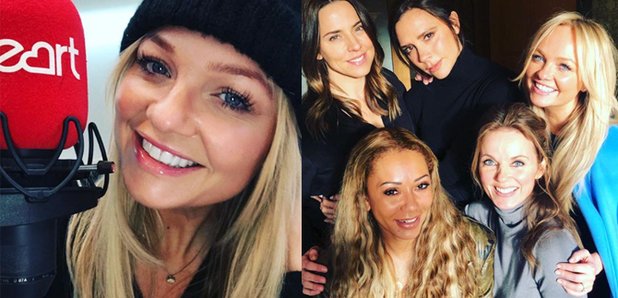 Emma has spoken exclusively on heart for the very first time about what happened when they all met up at Geri's house for the first time in six years.
Emma Bunton has revealed what really happened when she met up with the Spice Girls.
The Heart presenter took the world by storm when she appeared in an Instagram picture alongside her former bandmates, Victoria Beckham, Melanie Brown, Melanie Chisholm and Geri Horner.
Now Emma has spoken for the very first time about what happened when they all met up at Geri's house for a special meeting about the band's future and revealed on Heart that fans can expect some 'exciting things to come'.
"It's been a long time," she told Heart listeners. "Obviously, we've seen each other individually, but actually all together in one room was at the Olympics. It was just like, Friday, we thought we would all catch up, everyone was in town, let's do this, let's catch up.
"But I don't think any of us were expecting, we had such a lovely afternoon. We sat down, we had lunch together, we sat round."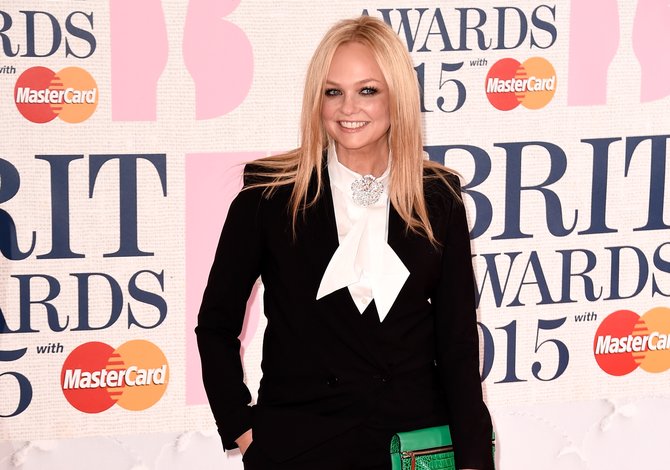 Picture: Emma Bunton at the Brit Awards in 2015
The band have not been in the same room together since the London Olympics in 2012, where they reunited to perform some of their biggest hits including 'Spice Up your Life'.
Emma added: "We reminisced about the old times, we were talking about the kids, it was lovely.
"And then we all sat around Geri's table and we got takeaway in, got sushi and some salads and drank tea and a little bit of prosecco, and it was just so lovely to see everyone. I loved it, really good fun."
Since news broke that there could be a possible reunion on the cards, rumours have been rife with Geri reportedly expressing her hopes of performing at the royal wedding.
According to The Sun, Geri Horner is keen to perform at Prince Harry and Meghan's wedding and luckily for her, Meghan is reportedly a big fan of the band.
A source told The Sun: "Geri suggested the Royal Wedding is a fantastic opportunity, and that they should offer to perform at the reception.
"She has been told that Meghan was a big fan of the Spice Girls. And the wedding fits in perfectly with Geri's idea that the reunion should be very British. She sees it as a big of their identity, and one they should keep."
If the performance does go ahead, Victoria Beckham will not be showing off her vocals, as it has been reported that the reunion went ahead on the condition that she doesn't have to sing.
Fans were sent into meltdown last Friday when Victoria Beckham dropped a huge hint that the Spice Girls are set to reunite in 2018 after posting a picture of all five members together.
The star, formerly known as Posh Spice posted a picture of all five girls together in a snap posted to Twitter, the group's biggest confirmation that the band is set to reunite this year.
The post has since been retweeted by Emma Bunton, yet another hint that a reunion could be on the way.
Love my girls!!! Exciting!
pic.twitter.com/Whecbap6hm

— Emma Bunton (@EmmaBunton) February 2, 2018
The news comes after reports by The Sun, that The Spice Girls will be paid £10 million each, on the condition that Victoria Beckham does not have to sing.
An insider told The Sun: "This is the pop reunion no one thought would ever happen again. But after a long period of negotiation Victoria agreed the time is right to work on new projects this year."
Are the Spice Girls going on tour in 2018?
As far as we know, the Spice Girls are not going to be going on tour just yet. According to reports by The Sun the girls will not be doing a singing tour, the paper has said that they will be working on a compilation album celebrating their greatest hits and doing endorsement deals.
They will also be hosting a TV talent show, and working on shows in China.
The insider went on to explain: "Victoria and Geri agreed it would be impossible to be part of a fully-fledged tour because of family and business commitments." - which is pretty fair to be honest.