The Inspiration Behind Jamie Oliver's Baby's Name Is Undeniably Adorable!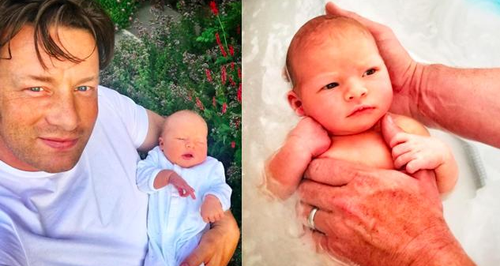 The name might have received mixed reviews but the reason is poignant.
When it comes to naming his children, Jamie Oliver, 41, isn't one for conventional names.
The famed TV chef, who already has children Poppy Honey, 14, Daisy Boo, 12, Petal Blossom, six, and five-year-old Buddy Bear with wife Jools, welcomed his fifth child this month and has opted for another unusual moniker for his newborn son.
After two weeks of keeping schtum, Jamie finally took to Twitter to announce that the name of his bouncing baby boy is none other than River Rocket.
It's safe to say the unusual name has divided opinion but what could have been the inspiration behind the name?
Well the name River actually holds a lot of significance for Jamie, as he was first discovered by the BBC when working as a Sous Chef in the acclaimed River Cafe in Fulham back in 1997.
The young and fresh faced chef, who was only 20-years-old at the time, made an unscripted appearance in a documentary about the Italian restaurant and of course ended up landing his very own show 'The Naked Chef' two years later, then BOOM, PUKKA Jamie instantly shot to fame and the rest is history.
As one of the biggest names in the world of culinary, it seems only right that perhaps Jamie wanted to pay tribute to the restaurant that kickstarted his successful career.