Prince George Is A Devoted Big Brother To Baby Sister Charlotte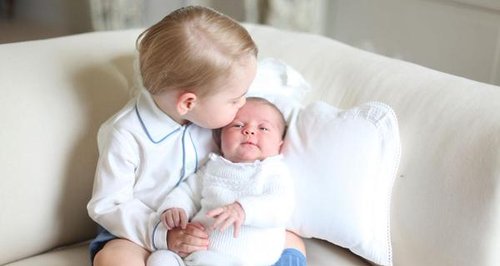 The royal eldest is clearly besotted with his little princess sister!
Update: 8th June
Prince George, two next month, proves he's a devoted big brother to his baby sister, Princess Charlotte. The pair were photographed cuddling by their mother, the Duchess of Cambridge. Could these two be any cuter?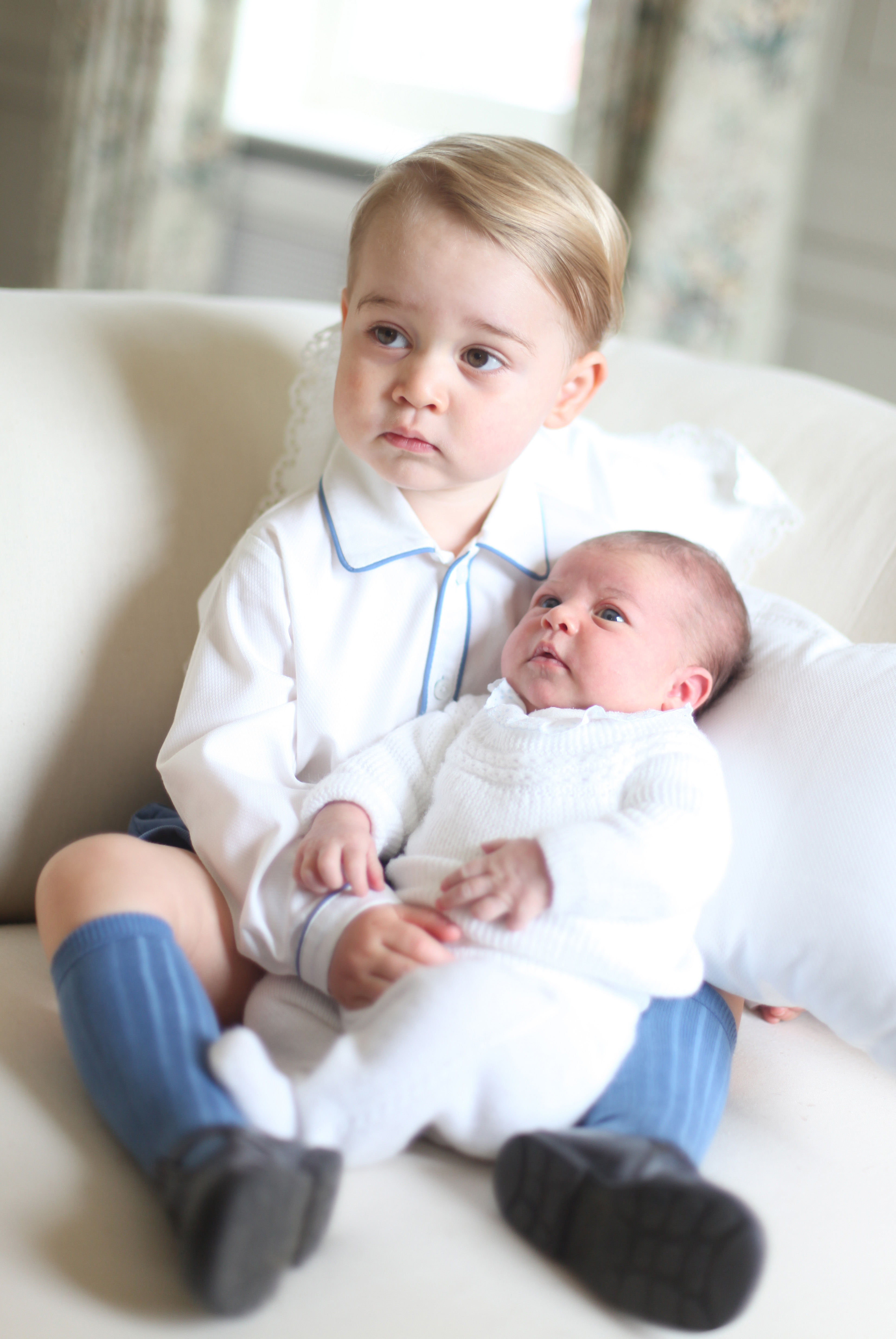 Update: 7th May
The new Princess left Kensington Palace and London yesterday to head to the families country home in Norfolk.
Update: 4th May 15:00
The Queen has now arrived at Kensington Palace to be introduced to her fifth great-grandchild Princess Charlotte.
You can also now see the new Princesses birth certificate here:
Here's the royal birth certificate. Love Kate's job description: "Princess of the United Kingdom". pic.twitter.com/gEW0hdWapm

— Fraser Nelson (@FraserNelson) May 5, 2015
Update: 4th May 2015
The Duke and Duchess Of Cambridge have revealed the name of their new baby daughter. The young princess has been named Charlotte Elizabeth Diana and will be officially known as Her Royal Highness Princess Charlotte of Cambridge.
There were already whispers that the name Charlotte was on the cards, with Alice another favourite. Prince George's little sister is also named after William's mother, Princess Diana, and great grandmother, Queen Elizabeth.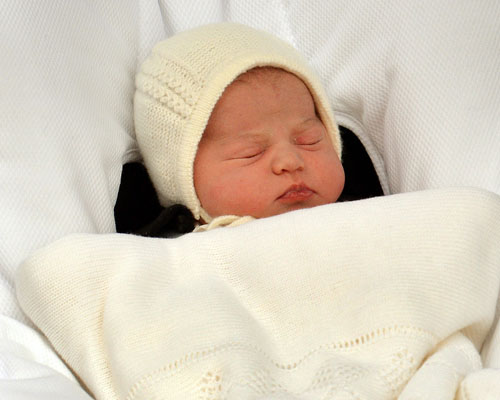 Charlotte has been a regal name for centuries and as the feminine form of Charles could be a tribute to grandfather, Prince Charles. Kate's sister, Pippa's middle name is also Charlotte.
As well as Tower Bridge being lit in pink on Saturday, there was also a gun salute to celebrate the birth earlier today.
The news took Twitter by storm as expected and below are some of the best reactions...
Which is more significant politically in Britain, UK elections or royal baby naming?

— Ezra Rapoport (@HFBondsTrader) May 5, 2015
Lol when #PrinceGeorge arrives to welcome his new sister #RoyalBaby pic.twitter.com/lQnbturCms

— KevanBett (@kevanbett) May 2, 2015
If it's a boy, name him Jon. If it's a girl, name her Arya. #RoyalBaby

— Jon Snow (@LordSnow) May 2, 2015
As the last #RoyalBaby was called George what are the chances of the latest addition being called Zippy or Bungle?

— Andy Stevenson (@producerandyuk) May 2, 2015
Update: 3rd May 2015
The royal baby has spent her first night at home and both families are expected to visit today.
The princess has yet to be named but Prince George's name was announced the day after his birth, so chances are we could here something today!
The names Charlotte, Alice and Elizabeth are currently the bookies favourite. It's thought that William and Kate will tell the Queen first.
Fans and well wishers were eagerly waiting outside St Mary's hospital in Paddington yesterday hoping for a glimpse of the latest addition to the royal family.
The Duke and Duchess of Cambridge presented their daughter to the crowds before driving home to Kensington Palace.
Update: 2nd May 2015
Prince William and the Duchess Of Cambridge have presented their daughter to the world outside St Mary's Hospital.
The princess slept whilst Kate held her during her first public appearance since the birth.
The princess's name is still currently unknown and the happy couple have yet to make a statement to the media.
After appearing on the hospital steps to greet the well wishers, William and Kate took the child home.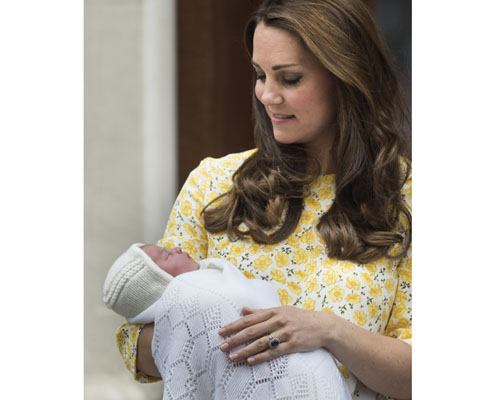 Update: 2nd May 2015
The Duchess Of Cambridge gave birth to a daughter weighing 8lbs 3oz this morning.
In a statement from the palace, the baby was "safely delivered" at 08:34 BST and Prince William was present at the birth.
Kate and the child are both said to be "doing well" and Prince William, who brought Prince George to visit his baby sister, has said that he and Kate are "very happy".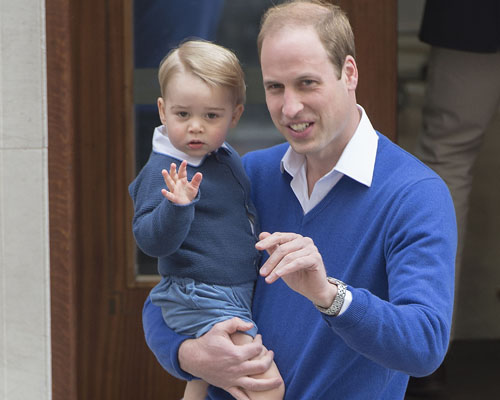 It is believed that the rest of the royal family were not in attendance, with the palace tweeting that they had been "informed".
You can see the palace's tweets below...
The Duchess travelled by car from Kensington Palace to the Lindo Wing at St. Mary's Hospital with The Duke of Cambridge.

— Kensington Palace (@KensingtonRoyal) May 2, 2015
The Queen, The Duke of Edinburgh, The Prince of Wales & The Duchess of Cornwall, Prince Harry & members of both families have been informed

— Kensington Palace (@KensingtonRoyal) May 2, 2015
Update: 2nd May 2015
The Duchess Of Cambridge is in labour as the palace announces on Twitter that a new royal baby is on the way.
Following months of speculation and anticipation the fans gathered outside St Mary's Hospital have been rewarded with the exciting news that Kate has been admitted.
She arrived early this morning and will be giving birth at the same hospital where she gave birth to son, Prince George and where Princess Diana gave birth to Prince William and Prince Harry. The child will be fourth in line to the throne.
Kensington Palace have also announced that the "labour is progressing as normal" for the Duchess, with surgeons Guy Thorpe-Beeston and Alan Farthing, who were both present for the birth of Prince George, delivering the child.
Once the royal family have been informed of the birth an announcement with the name, time of birth and weight of the baby will be placed on an easel outside the palace.
See Kensington Palace's tweets announcing the news below...
HRH The Duchess of Cambridge was admitted at 06.00hrs to St Mary's Hospital, Paddington, London and is in the early stages of labour.

— Kensington Palace (@KensingtonRoyal) May 2, 2015
The Duchess travelled by car from Kensington Palace to the Lindo Wing at St. Mary's Hospital with The Duke of Cambridge.

— Kensington Palace (@KensingtonRoyal) May 2, 2015
Update: 1st May 2015
Prince Charles is already the proud grandfather to Prince George, but the royal has revealed he would love to see Kate and Will welcome a bouncing baby girl in the next few days.
Charles' confession came as he met Welsh Guardsmen, veterans and their families after the Queen presented new colours to the 1st Battalion Welsh Guards at Windsor Castle.
At the reception, the heir to the throne struck up conversation with 100-year-old Eric Jones, the oldest surviving member of the Welsh Guards, who made a joke about having daughters.
Lynda Bateman, daughter of the centenarian, revealed: "My father introduced me as his daughter and Prince Charles asked how many daughters he had. My father said 'One - and that's enough' and Charles laughed and said: 'And we're hoping for a granddaughter!'"
The couple raised speculation that they were expecting a daughter when they sent breakfast hampers wrapped in pink ribbons to fans outside the hospital, however insiders insist the pair have chosen not to find out the sex of the baby.
Meanwhile, one royal super fan Catherine Wylie has posted a Vine video of the scene at the hospital this morning:
Update: Thursday 30 April
The Duchess of Cambridge may of had enough of waiting for the arrival of her second child, as it's speculated she's been swimming laps at Buckingham Palace in a bid to induce labour. The heavily pregnant royal - who is believed to be at least three days past her due date - was seen driving away from the palace grounds with Prince George in and his nanny in tow on Tuesday night, where she is thought to have taken her son for a dip.
According to the Telegraph, baby experts can often recommend swimming to overdue mothers as a way of bringing on labour naturally. The NHS says expectant mums who are fit and in shape will cope with labour more easily and find it easier to get back into shape after birth.
Update: Wednesday 29 April 2015
As speculation over when The Duchess will pop reaches fever pitch, rumours are circulation that Kate may soon be induced into having the baby.
If the royal second baby is born today it will be a wonderful fourth wedding ­anniversary present for William and Kate, who married on 29 April 2011.
The fake tweet:
Royal fans and the media alike were sent into a frenzy after a fake Tweet apparently announcing the birth, name and weight of Kate and William's second child was posted.
Despite no news of the Duchess going into labour, many news outlets and royal baby aficionados jumped on the news and retweeted or favourited the post.
Luckily however, this was all simply a false alarm and Kate is still pregnant with no sign of her second child yet.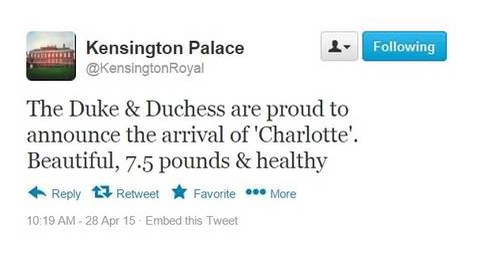 Update: Tuesday 28 April 2015
Security measures are being stepped up outside the Lindo Wing as speculation mounts that the Duchess may be about to go into labour. A police sniffer dog was also spotted outside of the hospital in preparation for the royal family's arrival.
The news comes after William and Kate sent a breakfast hamper to feed fans who have been camping outside the hospital for a week, hoping to glimpse the royal baby after it's born.
A Kensington Palace source said: "The Duke and Duchess were aware that they had been out there for a long time and just wanted to do something for them."
The eagle-eyed royal-watchers also seized on the fact that the treats came in boxes tied up with pink ribbon, but royal insiders said the colour was pure coincidence.
"The shop where they came from just happens to use pink ribbon," said a source, repeating the fact that the Duke and Duchess do not know the sex of their baby.
Update: Monday 27 April 2015
Questions are being asked as to whether The Duchess of Cambridge should continue to give birth as planned at St Mary's Hospital, after a superbug has led to the closure of a ward.
Three patients are reportedly said to be infected with the deadly microorganism Carbapenemase which produces enterobacteriaceae, but have all since made a full recovery.
Kate's overdue:
The Duchess of Cambridge was scheduled to give birth to her second child on Saturday 25 of April but hasn't yet. Should Kate be two weeks late, she will be overdue.
The Duchess is set to have her baby at the Lindo Wing of St Mary's Hospital where she had Prince George. As it's the second time she stays at the London Hospital she will be given a discount on her bill, which is £6,000 per day plus consultant fees.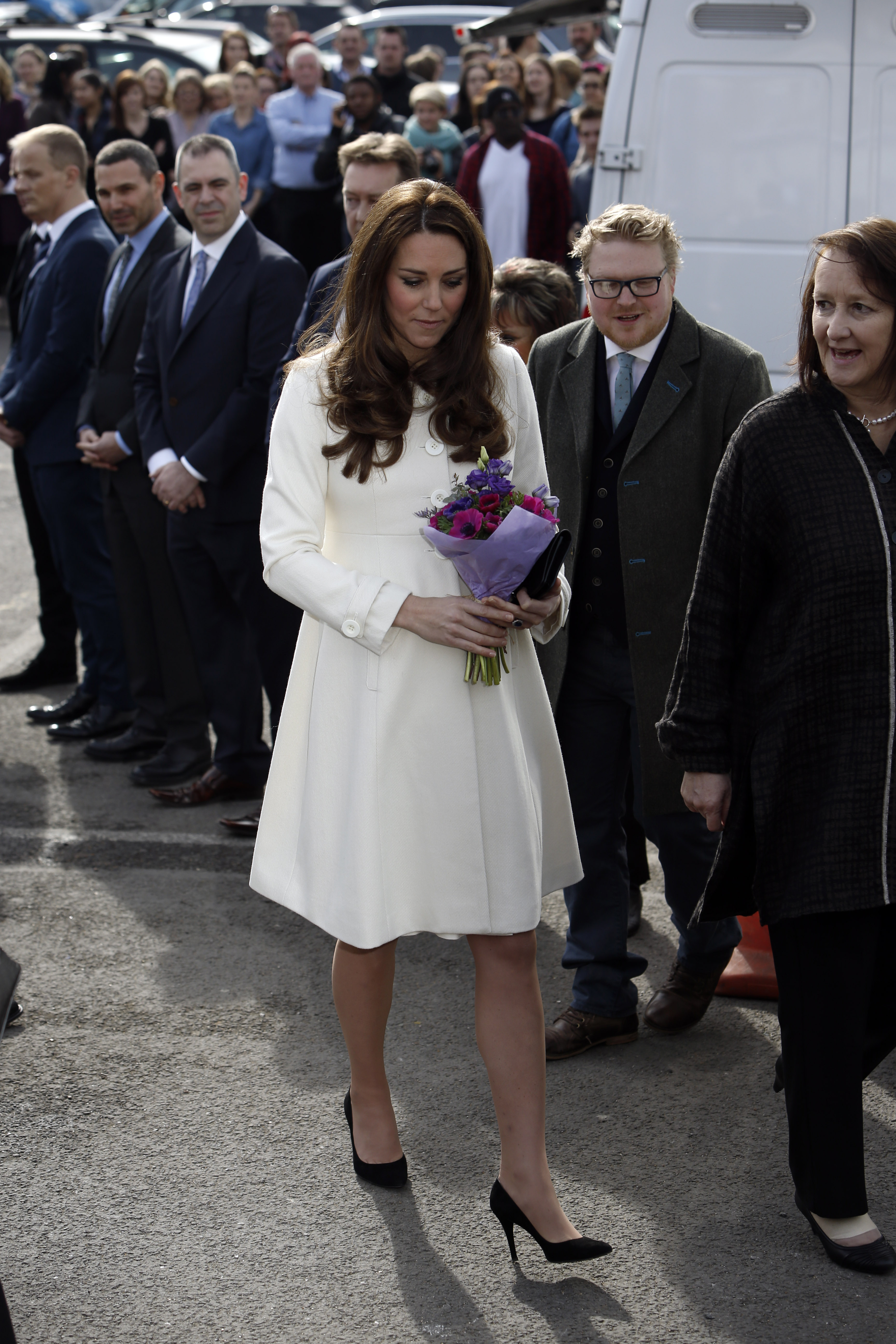 Update: Wednesday 22 April 2015
The Duke of Cambridge has officially started paternity leave ahead of the arrival of his second child. The Duke is taking a break from his job training as an air ambulance pilot in preparation for the big event.
Meanwhile royal baby 'mega fans' have already started arriving at the hospital waving Union Jacks and sporting royal paraphernalia. They may be waiting a few days yet as the bookies are putting Saturday forward as the favourite day for the royal baby's arrival.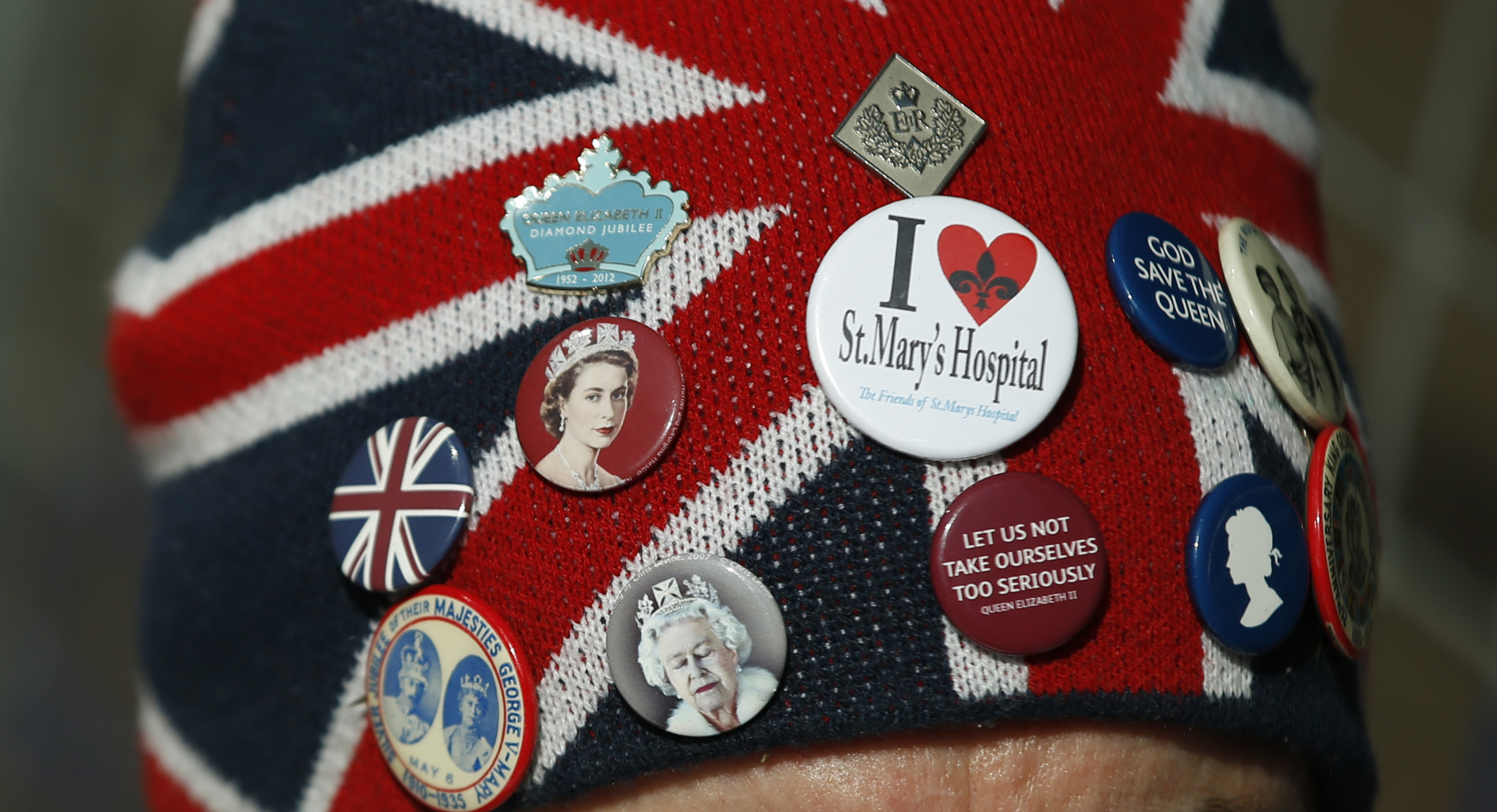 Update: Tuesday 21 April 2015
The Duchess of Cambridge's favourite maternity label is enjoying soaring sales as the pregnant 33-year-old prepares to give birth for the second time.
With the arrival of royal baby number two just days away, the British fashion house 'Seraphine' has seen it's profits double thanks to the glamorous Duchess stepping out during both her pregnancies in a number of their items.
Two of the most popular choices is a duck blue 'Natasha' cashmere coat priced at £195 and a bright pink wrap dress, costing £46.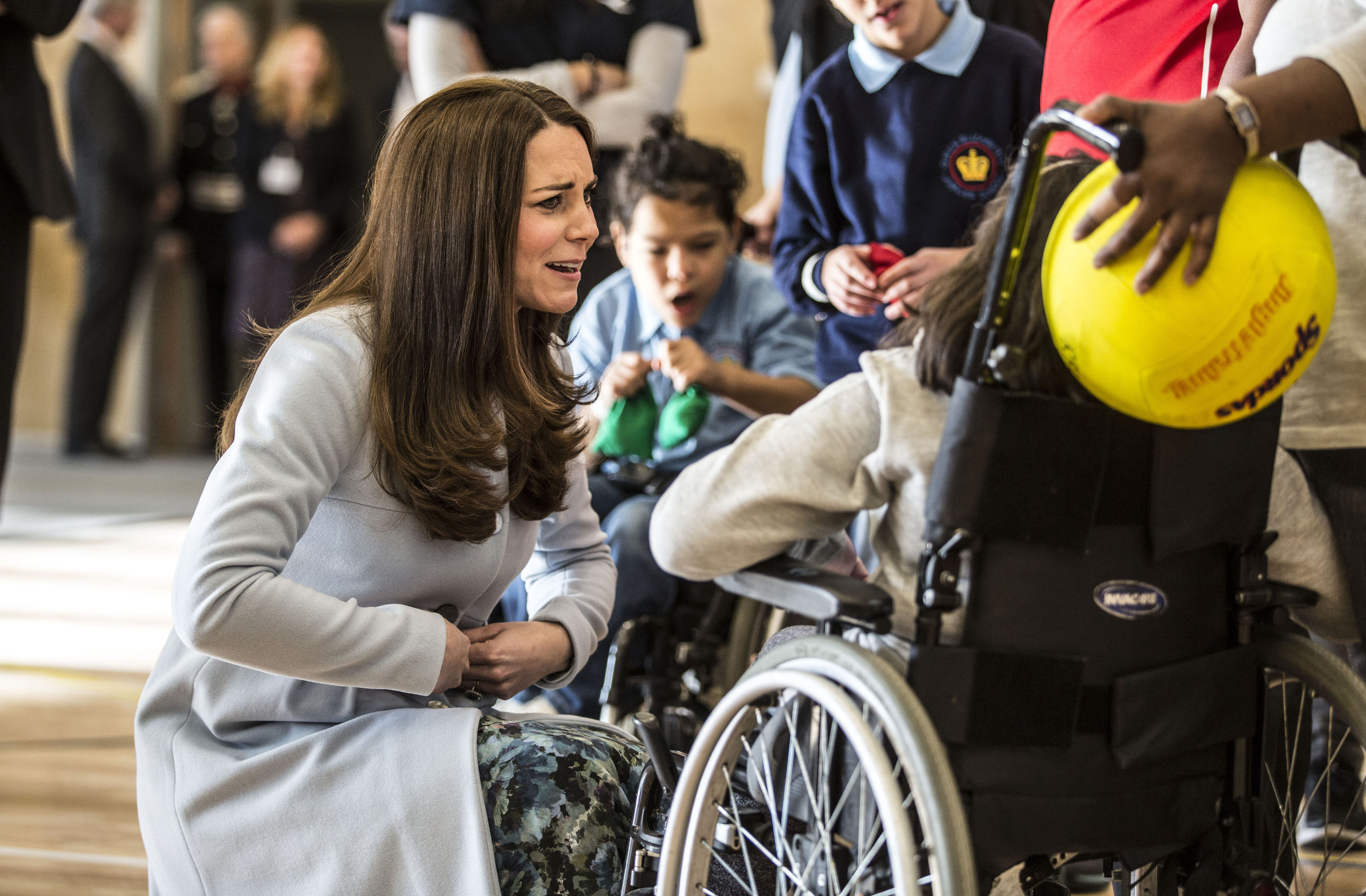 Update: Monday 20 April 2015
Rumours that The Duchess of Cambridge could leave London to have her second child are circulating afar hospitals in Norfolk and Reading have been put on alert.
Queen Elizabeth hospital in Norfolk and Royal Berkshore hospital in Reading have been placed on standby incase Kate goes into early labour whilst visiting her family. Kate's parents live in Bucklebury, Berkshire which is nearby the Reading hospital, whilst Queen Elizabeth is handily situated near Anmer Hall - the couple's country home.
Update: Friday 17 April 2015
Workmen begin erecting barriers for where the world's media will wait outside the Lindo wing of St Mary's Hospital in Paddington. The Duchess of Cambridge is due to give birth later this month. Fans carrying Union Jack flags have also started to arrive.

Update: Wednesday 15 April 2015
From Tuesday drivers should be prepared for traffic woes outside St Mary's Hospital as police erect barriers to prevent people gathering outside ahead of the second royal birth.
Commuters can take comfort in the fact that this time around, authorities will be preventing journalists and televisions crews from camping outside the hospital until Kate goes into labour.
Update: Tuesday 14 April 2015
Baby George is turning out to quite the unwitting comedian. The adorable Prince decided to take a peek in the family's china cabinet when he was told that daddy had 'gone to visit China'. Bless! We think the tot might need a geography lesson before he takes the throne in later life!
Update: Monday 13 April 2015
As Prince William prepares to become a daddy for the second time, the second-in-line-to-the-thone is currently training for his new job as a helicopter pilot with East Anglian Air Ambulance. However, he will remain close to home and never be more than two hours away in case he needs to dash back to London for the birth of his second child.
Meanwhile the delivery team will be led by Guy Thorpe-Beeston, surgeon gynaecologist to the Royal Household, who is a consultant obstetrician and gynaecologist at the Chelsea and Westminster Hospital.
Update: Thursday 9 April 2015
The birth of a royal baby is an auspicious event! To mark the occasion, it's been announced that newborns arriving on same day as the new Prince or princess will be bestowed with the silver pennies.
As with the arrival of Prince George in 2013, The Royal Mint will be marking the birth of the royal couple's second baby with these commemorative gifts. Parents-to-be must register the birth of their child on the company's Facebook page in order to receive their coins.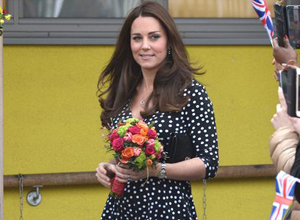 Update: Tuesday 31 March 2015
British bookies have slashed the odds from 14-1 to 4-1 on the royal baby name being Alice.
"Alice is the new favourite and we have seen a significant number of bets." A spokesperson for the company said. "You have to think there is good reason for the gamble."
Elizabeth and Charlotte are also popular predictions with wagers, with Arthur, Henry and James all in the running if the couple have a boy.
Update: Monday 30 March 2015
Kate will be taking a break before her second child arrives in April.
The Duchess performed her final royal duty today, as her and husband Prince William visited youth projects in south London, including the Stephen Lawrence centre in Deptford.
This final engagement reflects Catherine's interest in helping disadvantaged young people.
Update: Friday 20 2015
Whilst on a visit to a children's centre in Woolwich, London, the Duchess was asked about her due date by Christine Osborne, a 49-year-old volunteer. The gorgeous royal smiled and replied: "I'm due mid-April, to the end of April. Not long to go now."
This means the royal bubba could potentially have the same birthday as Her Majesty the Queen, who will be turning 89 on April 21. It could also be born on the national day of England's patron saint St George on April 23, which could be rather fitting for a child the future fourth-in-line to the throne. The child could also arrive it's parents fourth wedding anniversary, April 29.
Update: Monday 2 March 2015
Kensington Palace have announced Catherine's final public engagement will be on March 27th 2015.
Although we still don't know if royal baby number two will be a boy or a girl, we do know that it's likely to be born in April.
Did you know:
It's the custom for royal births to be announced to the general public via a bulletin which will be posted on Buckingham Palace's railings straight after the birth. After the nation has seen this, an announcement will be made on Social media.
Following the happy news Union Jack flags will also be flown from all Government buildings, Royal Naval ships, and defence establishments.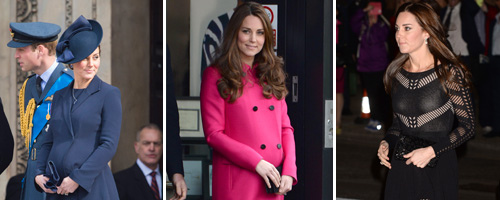 Update: Tuesday September 9 2014
Meanwhile Prince Charles has revealed he hopes the second royal baby will be a girl: "It's wonderful. I'm happy I'm going to be a grandfather again. I'm looking forward to it – but I hope it will be a girl this time."
Prince Harry has also commented on the news, claiming that his nephew baby George will be "thrilled having another small younger brother or sister". The 29-year-old, who will be celebrating his 30th birthday on September 15, added that Kate is "doing the best she can".
Update: Monday September 8 2014
The wonderful news was revealed earlier today when The Duchess was prevented from attending a public engagement in Oxford with her husband.
Clarence House confirmed the news on Twitter at 10.30am, posting the following:
The Duke and Duchess of Cambridge are very pleased to announce that The Duchess of Cambridge is expecting their second child

— Clarence House (@ClarenceHouse) September 8, 2014
Kensington Place also confirmed that the Duchess is suffering from acute morning sickness, similar to the feelings she experienced during her first pregnancy.
"She's feeling okay. It's been a tricky few days - (well) a week or so - but obviously we're basically thrilled, it's great news, and early days." gushed proud daddy-to-be William. "We're hoping things settle down and she feels a bit better."
Judging by another tweet sent out later by Clarence House, it looks like the Prince isn't the only one looking forward to what the future holds:
The Queen and members of both families are delighted with the news that Their Royal Highnesses are expecting their second child

— Clarence House (@ClarenceHouse) September 8, 2014
The couple will be introducing a younger sibling and playmate to Prince George, who recently celebrated his first birthday on July 22 2014.
Meanwhile a "thrilled" Prince William proves once again that he's a natural with kids as he greet school children at the opening of The Dickson Poon China Centre today:
The Duke of Cambridge talks to schoolchildren at the opening of The Dickson Poon @UniofOxford China Centre today pic.twitter.com/fihI5kSzea

— Clarence House (@ClarenceHouse) September 8, 2014
Huge congratulations to Kate and Will!