Woman boasts about her many affairs with married men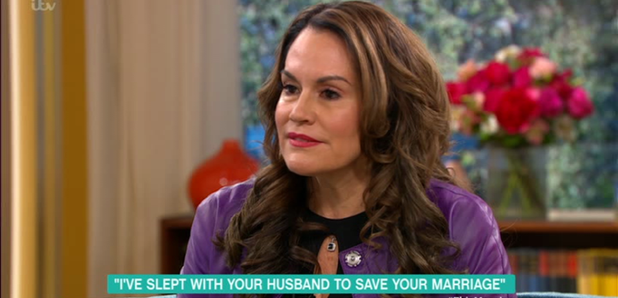 This Morning viewers were left outraged by the 47-year-old who beds married men.
This Morning viewers and Holly and Phil were left in disbelief when 47-year-old Gweneth Lee appeared on the programme to discuss her love for married men.
The widow decided to begin sleeping with married men after her husband died and signed up to 'married dating site', Illicit Encounters.
During her interview on the This Morning sofa she elaborated on her experiences and why she has decided to only romance married men.
When Holly asked if she found monogamy old fashioned Gweneth replied: "I think it works for some people but I think it's highly overrated".
"Any of the men I have relationships with I make it very clear when I first start dating them that if you're considering separation or you're going to divorce your wife, I'm not going to start an affair with you".
Gweneth even admitted that her husband had an affair while he was married to her.
She said: "We had a pretty much open marriages from the beginning. I was my late husband's fourth wife.
"When it did come out he was having an affair, I was like, 'Well there is a reason why he has been married four times!"
She claims that rather than aiming to steal husbands she actually wants to help save marriages that are missing a spark.
Serial mistress Gweneth says being the other woman is better than monogamy - here's why she has a penchant for emotionless affairs with married men pic.twitter.com/muEAukhHJ9

— This Morning (@thismorning) May 15, 2018
Holly rightly pointed out that her actions could not just effect the wife but also the entire family unit and sabotage marriages that have children.
But Gweneth said that whoever was signing up for websites such as IE knows what they are getting into and they should simply "keep their wits about them".
Many viewers at home were understandably shocked by Gweneth's comments and took to Twitter to express their concerns...
Absolutely disgusting. The effect that someone like her can have on another woman and her children is completely devastating. What right does she have to harm others with her pure selfishness?

— Amanda Davies (@penguinmand) May 16, 2018