From 'The X Factor' To 'The Eurovision Song Contest': Who Is Lucie Jones?
8 May 2017, 18:07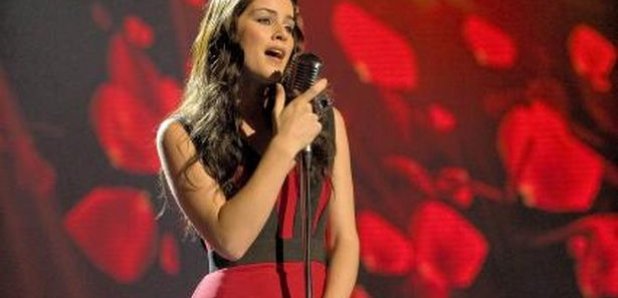 Here's the lowdown on this year's UK Eurovision entrant...
Can you believe it's been a whopping 20 YEARS since the UK won The Eurovision Song Contest? (That was 'Love Shine a Light' by Katrina and the Waves, fact fans. FYI, lead singer Katrina Leskanich will be the UK jury spokesperson who announces our votes this year).
Can we bring home the big prize at this weekend's grand final in Kiev, Ukraine? Well, in a post-Brexit world, there's a massive elephant in the room, which may sink our chances. (Although in Eurovision is something of a friendly alternative universe, Australia has competed in recent years, so anything goes).
So who is the hopeful that's flying the flag for the UK at this year's Eurovision? Meet Lucie Jones…
She seems familiar
Kristen Stewart lookalike Lucie, 26, is from Wales and appeared on The X Factor way back in 2009 with Dannii Minogue as her mentor. Fellow finalists included eventual winner Joe McElderry Rachel Adedeji, Danyl Johnson (who also hoped to represent the UK at this year's Eurovision), Stacey Solomon and somebody called Olly Murs (never heard of him!). Basically, we're talking the golden era of The X Factor.
Controversially, Lucie was eliminated in week five against novelty act Jedward. But that didn't stop her…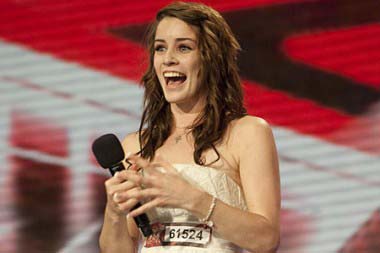 "It's a yes from us." (Copyright: ITV)

She's a successful musical theatre performer
Lucie's theatre CV is stellar. She's played Cosette in Les Miserables, appeared opposite Matt Smith in American Psycho: The Musical, performed in an Asian tour of Ghost The Musical and has been acting in Rent while gearing up for Eurovision. She's certainly been a busy bee!
Her song 'Never Give Up On You' is a real belter
Prepare to wave your lighters in the air for this emotional anthem. Stirring lyrics about supporting a struggling friend combine with Lucie's gorgeous, heartfelt vocals to create a classy track which should really move the crowds on the night. Fingers crossed!
She likes to perform barefoot
The musician "can't sing or stand or walk" in shoes, apparently. "Converse is a struggle," she said on The Graham Norton Show. When the host cheekily asked her if she grew up with wolves, she replied: "I grew up in Wales, so I was always on a hill, that could be it."
Her

fiancé
proposed in a novel way
Lucie and her now-fiancé Ethan Boroian met at The X Factor boot camp in 2009, became friends before becoming a couple five years later. Chef Ethan, 29 – who got through to Judge's Houses in '09 – proposed by presenting Lucie with a stunning video montage. Filmed in several locations, ending in Pentyrch, where she was born, it's one of the most romantic things ever.
– Eurovision Song Contest 2017 Grand Final, with commentary from Graham Norton, is on BBC One at 8pm this Sat 13th May.