X Factor Hopeful Gets Axed From Show But Makes HUGE Romantic Gesture Anyway
2 October 2017, 07:58 | Updated: 2 October 2017, 11:18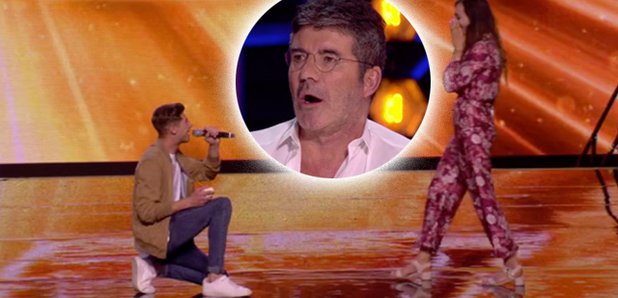 Despite missing out on his dream this X Factor contestant still made a huge romantic gesture.
The X Factor is full of surprises! But we didn't expect this one from 27-year-old plasterer Sam Black during his audition aired during Saturday night's instalment of the show.
The singing hopeful took to the stage to perform the song Runaway by Del Shannon however things didn't go totally to plan.
After performing the song once the judges didn't seem too blown away so asked him to try singing it again but this time, a Capella.
Sam gave it his all, but sadly it wasn't enough to wow judges Simon Cowell, Louis Walsh, Nichole Scherzinger and Sharon Osbourne. But despite the let down he asked Simon if he could do one last thing while on the X Factor stage.
Simon said "You can do what you like" and then Sam pulled out a box from his pocket that got the whole live audience screaming and invited his girlfriend Emma on to the stage.
Before long he was down on one knee proposing and melting the hearts of the whole audience including everyone watching at home.
Crying like an absolute baby at that proposal on X factor. What is actually wrong with me?

— Siobhan. (@siobhan_varty) October 1, 2017
Well it's an emotional Sunday as I'm balling my eyes out at the proposal on X factor

— zoe (@zoereadex) October 1, 2017
He said "Do you reckon I'll get a yes off you?" before his girlfriend said yes and burst into tears. What a once in a lifetime moment for the couple!
And it definitely will have made up for Sam's disappointment at not getting through, he got the most important yes of the day.
Congrats guys!