The Youngest Acting Award Nominees and Winners Ever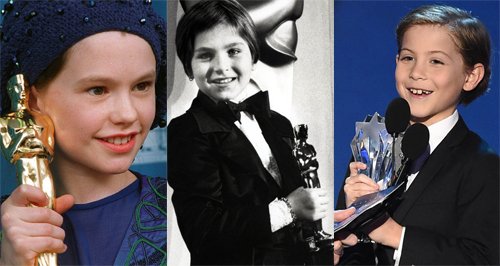 Who says a 10-year-old can't beat the established stars to a shiny acting award? From Shirley Temple to Anna Paquin and Saorise Ronan, here's our pick of the youngest acting award nominees and winners of all time…
There are some people who are just born to act, especially the wunderkinds who turn their baby talents into fully-fledged careers…before they even turn 10!
From Shirley Temple to Abigail Breslin, some actors pull off stunning performances almost 20-years before their grown-up counterparts – resulting in some super cute acceptance speeches and red carpet turns.
Whether it's the Oscars, the Golden Globes or the Critics' Choice Awards, here's our pick of the best young actors who've been nominated (and in some cases won) major acting awards…
Shirley Temple
Born in 1928, Shirley Temple was undoubtedly the most famous young performer of the 1930s, appearing in films like 'Curly Top' and 'Heidi'. In 1935 she won a special juvenile performer Oscar for her work in 1934 – meaning she was just six years old turning her star turn! She later went on to work as a diplomat for the United States. Watch her in action…
Tatum O'Neal
At the 1974 Oscars, 10-year-old Tatum O'Neal made history by winning the Best Supporting Actress gong. The little star shined as tomboy Addie in 'Paper Moon', which also starred her father Ryan O'Neal. Watch her incredibly short, but very sweet acceptance speech here…
Quvenzhane Wallis
The Louisiana-born actress was nominated for her part in 'Beasts of the Southern Wild' aged just nine in 2013. She was only six-years-old when the film started production and was only five when offered the part. In fact, Quvenzhane had to lie about her age to get the starring role, which also marked the first time an African-American child actress was nominated for a Best Actress role. Amazing work!
Jacob Tremblay
The nine-year-old stole everyone's hearts in 2016 thanks to his starring role in gritty drama 'Room'. He even managed to give an incredible acceptance speech when he was handed the Critic's Choice Award for Best Young Actor in January. Watch it here…
Anna Paquin
Most of us know her as Sookie Stackhouse in 'True Blood' or as Rogue in the 'X-Men' series, but Anna Paquin is also an Oscar winner. Yep, the star won an award aged just 11 for her role in 'The Piano'. We promise if you haven't seen it, she really is out of this world – and even managed a Scottish accent (sort of)…
Abigail Breslin
Who doesn't remember 'Little Miss Sunshine' with a smile on their face? Abigail Breslin was nominated for a Best Supporting Actress Oscar aged 10 for her turn as geeky Olive. Watch the film's famous dance number here…
Haley Joel Osmet
'The Sixth Sense' still scares the bejesus out of us, which is why Hayley Joel Osmet thoroughly deserved his Best Supporting Actor Oscar nomination in 1999. We hope the film didn't scar him for life…like it did us!
Saoirse Ronan
She's back in the running for an Oscar this year thanks to her part in 'Brooklyn', but Saoirse Ronan has been an awards show favourite for years. She was first nominated aged 13 for her turn as Bryony in 'Atonement' alongside Keira Knightley. She's only 21 NOW! God we feel old.
Hailee Steinfeld
We loved her in 'Pitch Perfect 2', but Hailee Steinfeld first made waves alongside Jeff Bridges in 'True Grit' aged 14. A Best Supporting Actress Oscar nomination soon followed in 2010. As a member of Taylor Swift's squad she also has a budding pop career. Check out her music video here…
Jodie Foster
Who doesn't love Jodie Foster? Since her days in 'Bugsy Malone' Jodie Foster has been kicking ass with her very own brand of cool, but it wasn't until 1976 aged 14 that she earned her first Best Supporting Actress nomination for 'Taxi Driver'. She later won two Oscars and a Golden Globe special achievement award. Take a peek…
We don't know about you, but we're wondering what we've been doing with our lives!