Race for Life 2011
Cancer Research UK's Race for Life is more than an incredible day out – it's helped fund amazing advances in cancer research across the UK for the last 17 years.

Thanks to people just like you, more people are beating cancer than ever before.
All the events in Hampshire and Dorset have now been completed. Many thanks to everyone who took part...and please make sure you get your sponsorship money in as soon as possible.

Race for Life is the UK's largest women-only fundraising event where all the money raised goes to funding Cancer Research UK's life-saving work.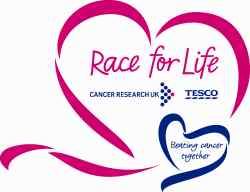 The 2011 Goal:
2011 is a very ambitious year for Cancer Research UK's Race for Life. Every two minutes someone is diagnosed with cancer, and that's why this year we need more women than ever before to join events across the UK.
A fifth of Cancer Research UK's income is generated through Race for Life, and the goal is to raise £80million for our life-saving work.