Heatwave Hits Hampshire and Dorset
1 July 2018, 09:03 | Updated: 1 July 2018, 11:25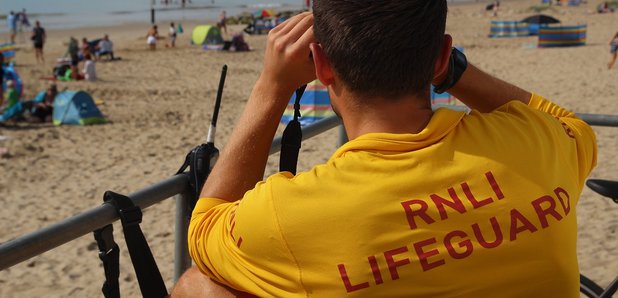 As the Heatwave Continues, there is a risk of thunderstorms for parts of Hampshire and Dorset.

The Met Office has issued a weather warning for thunderstorms for parts of Hampshire and Dorset
Forecasters said storms may develop and bring torrential rain, hail and lightning to places until 10pm, while the heatwave is set to continue for the rest of the weekend.
Temperatures reached a high of 29.5C (85F) on Saturday, Otterbourne in Hampshire was the UK hotspot.
Sunday will continue with higher levels of humidity than in previous days, forecasters have said.
Thousands of people heading to Bournemouth Beach at the weekend
RNLI Warning People To Stay Safe Along The Beach
Lifeguards are warning people to take extra care after a couple had to be rescued by crews near Lyme Regis after their speedboat was swamped by waves and holed on rocks at Charton Bay while they tried to have a bbq late a night.
It took them two hours to get the water out but had to be towed back to the harbour.

RNLI Callouts in Poole
At 11.30 the Poole lifeboat launched to a report of a 37ft yacht with two people on-board who needed help, they were at the Poole Bar buoy, which is at the beginning of the Swash Channel heading into Poole. They had asked for assistance as their forestay had snapped whilst they were on passage, add to the mix, that they were entering an unfamiliar harbour, with the risk that their mast was coming down, conditions in the harbour were fine with a North Easterly wind 2-3.
The Poole Lifeboat volunteers were swiftly on scene and met the yacht halfway down the Swash Channel, two crew, one who is an experienced 'Yachty' himself, was transferred on-board, they spotted that the forestay had snapped and in turn had made the rest of the rigging loose. They quickly attached additional lines as a temporary stays, to secure the mast and prevent it from falling down.
The vessel was safely escorted to Poole Quay Boat Haven, after making sure all was well, the lifeboat returned back to station and was ready for service by 1.30pm.
Then at 5.45pm Poole lifeboat volunteers were requested to launch to a report of two missing people off the beach at Bournemouth Pier, the volunteers were on route and at East Looe channel when information came through, over the radio from UK Coastguard that the lifeboats assistance was no longer required as the persons were safe and well ashore, so the lifeboat headed back to station, whilst the crew were closing down, word came through that a 5 meter speedboat had broken down between Rockley and Lake Pier. The volunteers were swiftly on scene by 7.30, after checking that the two people on-board were okay they attached a tow line and brought them safely back to Rockley Park.