Meet Angel Abby
We wanted to know what makes our Angels laugh out load and who their weird celebrity crush is.
Profile
Name: Angel Abby
Star Sign: Cancer
Special Skill: Making lists!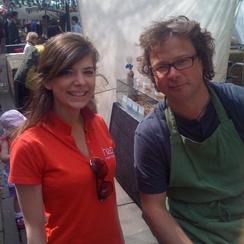 We spent some time with Angel Abby to find out a little more about her. Here are the results:
What is your best joke? Why did the prawn leave the disco......because he pulled a muscle!
Who is your most embarrasing celebrity crush? Oh no! Um, Phill from Relocation, Relocation but I do also have a soft spot for Hugh Fernly-Whittingstall
If you could take over any show on Heart what would it be? I would definatly take over Heart Divas night!
What is the best thing you have done for your radio station? I think getting to go backstage at Glastonbury, meeting and talking to all my idols has to be one of the best moments of my life!
What makes you laugh out loud?
Abby's Top Five Tunes on Heart
JLS - One Shot
Snow Patrol - Chasing Cars
Alicia Keys - Empire State Of Mind Part Two
Kings Of Leon - Use Somebody
Rhianna - Russian Roulette