£15,000 Worth Of Cocaine Seized In Yeovil
23 April 2015, 15:08 | Updated: 23 April 2015, 15:11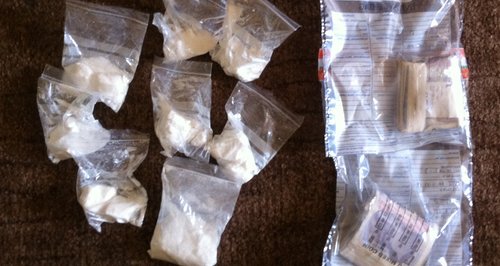 An anonymous tip-off has led Avon and Somerset Police to what is believed to be a sizeable amount of cocaine as well as cash in Yeovil.
Police tell us they think this amount of cocaine would have a street value of about £15,000. It was seized on Wednesday 22nd April along with electronic scales, telephones and re-sealable bags.

A 28-year-old man from the Abbey Manor area of the town has been released on bail whilst the investigation continues and tests carried out on the seized powder.

He was also arrested on suspicion of being involved in the production of cannabis at Crewkerne, relating to a search of a house in February.

Yeovil Neighbourhood Sergeant Rich Barnett said:
"This was a significant find which should help disrupt the Yeovil drugs supply, and we'd like to thank the person who called Crimestoppers with the information. We receive many pieces of information from the public which we'll always act on, so please call Crimestoppers or your local police station on 101 with concerns about any suspicious activity."

A 33-year-old man remains on bail regarding suspected cannabis production in Crewkerne. Seven plants and equipment commonly used in growing cannabis were seized.