Cannabis Factory Found In Near Bridgwater
19 February 2016, 13:14 | Updated: 19 February 2016, 13:22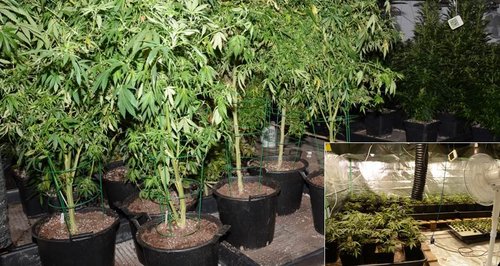 Police have seized a quarter of a million pounds worth of cannabis following a drugs warrant near Bridgwater.
200 plants with an estimated value of just over £250,000 were seized by officers from the Bridgwater Beat Team, assisted by colleagues from the force Catch and Disrupt Team, the police helicopter and Western Power. The warrant was carried out under the Misuse of Drugs Act in Weston Zoyland following information from the public.

Three men aged 35, 38 and 42 from Somerset, were arrested on suspicion of cultivation of cannabis and taken to Bridgwater Police Centre. They have been bailed pending further investigation. Local Beat Manager PC Jim Murray, from Bridgwater Police Centre, said:
"This was an excellent job. We have seized an extremely significant amount of cannabis, which we believe to be a particularly potent variety. It was a very professional set-up. The most professional I have seen for some time, with full hydroponics and rotational grows. However, the growers were using electricity they were illegally obtaining by tapping straight into the main grid, which is extremely dangerous and I am very grateful to Western Power for coming and help make the site safe."

Staff from the CSI and Operation Viscount Units came and cleared the site and have taken the plants away for forensic testing after which they will be destroyed. The hydroponics have also been seized and dismantled. Chief Superintendent Ian Wylie, Area Commander for Somerset, said:
"Acting on community intelligence the Bridgwater Beat Team were able to arrest three men and have taken a very large amount of cannabis out of circulation. They have put the public at the heart of our activities, by listening and taking action. Well done to the team!"

PC Murray continued:
"We are extremely grateful to the public for the information that brought about today's action. The local community really are our eyes and ears. We say it over and over again, but it is true. Information from the public is vital. I hope this reassures the residents of Sedgemoor that we do listen and we do take action. We won't tolerate drug related crime, be that cultivation, production or dealing. I encourage people to get in touch with us. You can report suspected crime in a number of ways. You can call 101, or report it online via our website www.avonandsomerset.police. Alternatively you can contact the independent charity Crimestoppers on 0800 555 111 or via their website www.crimestoppers-uk.org They never ask your name or trace your call, and you could earn yourself a cash reward."

The three men have been bailed until 16 May 2016.